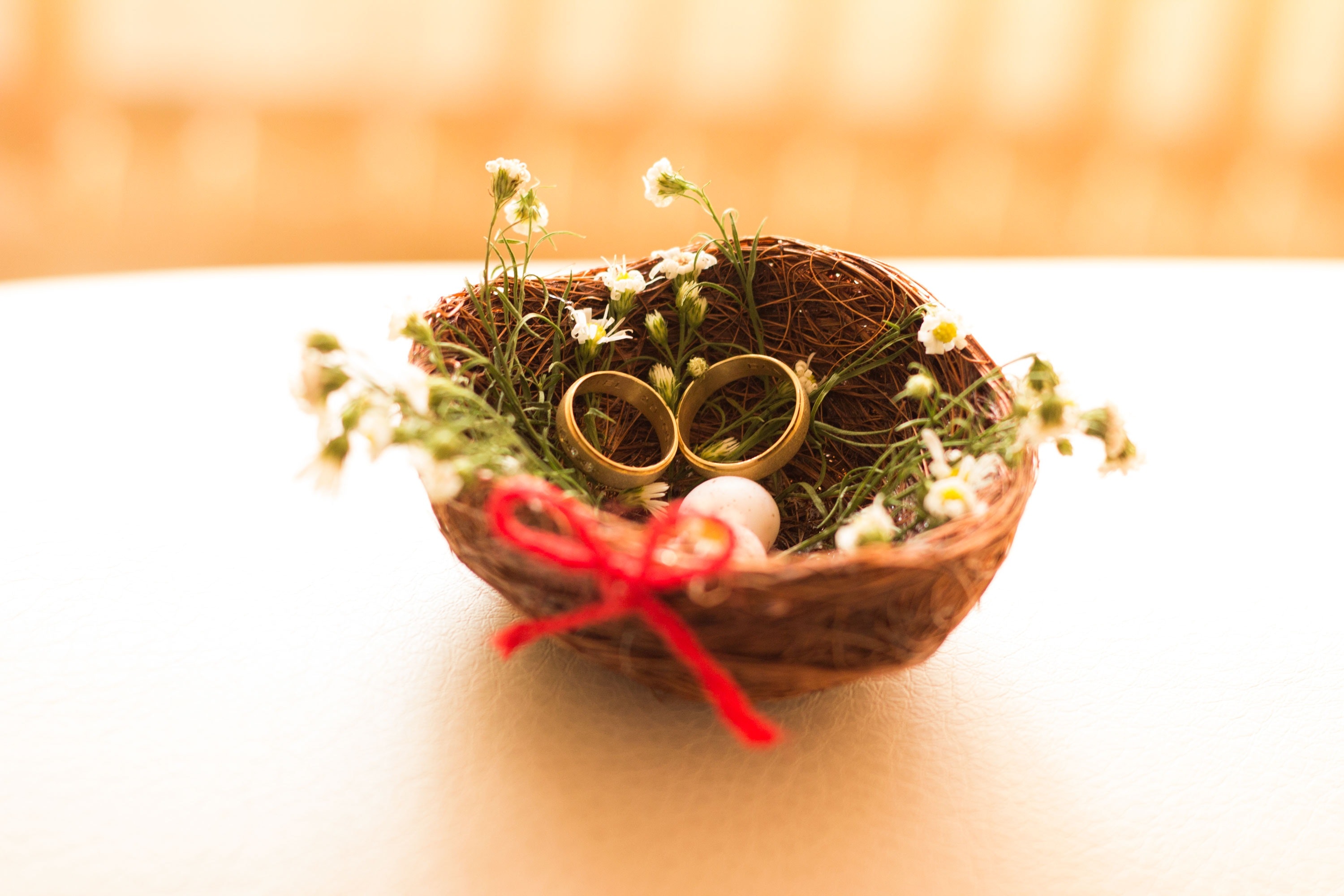 Weddings have a lot of symbolism, one of which is the wedding rings. But before couples exchange rings during their wedding ceremony, these rings should be stowed first in ring bearer boxes. Traditionally, old folks use wedding pillows to walk the rings down the aisle with the help of the ring bearer. Sure, you can still do that, but in the 21st century, there are lots of choices laid upon you. We know you already have lots of things to decide on about your wedding preparations, but then again, details are essential. You can always take a notch up to make your wedding extra special. 

These ring bearer boxes ideas we got on our checklist might be a good alternative to the typical wedding pillows. Other than that, you can still use these gems after the wedding day. You can store some of your mini jewelry here as well. How functional is it, right?
Additionally, these ring bearer boxes may fit your wedding designs.
1. Under the Sea Shell Box


This wedding ring box in scallop shape will intensify your beach wedding theme. Try making your flower girls blow bubbles while walking down the aisle instead of scattering flower petals to complete the whole under the sea concept. See, what we mean about details?
2. Wedding Pillows in a Box


If you want to stick to the tradition and use wedding pillows, you may do so. But these ring bearer boxes ideas will give more safety to your wedding rings. Instead of the average wedding pillow sizes, you can opt for something smaller; say the size of a Japanese jackstone. Then, keep it inside a mini two-unit box with clasp closure for security.
3. Story Book Box
You do not necessarily have to love books to go for this ring bearer boxes concept. But since the union of two people in matrimony is definitely one of the books, you may want to try this book box that looks exactly like a book and has ribbons inside to keep your wedding rings in place.
4. Snow Globe Ring Box
Snow globe is probably one of the greatest creations, and to store your ring in it will boost elegance to your wedding rings. It is perfect for classic themed weddings. Also, after the occasion, this snow globe can be a display of your coffee or bedside table. What do you think?
5. Stoneware Ring Box
For star-crossed lovers who promised to give the sun or the moon to each another, this celestial-themed stoneware case in the color of blush pink is perfect for you. The color gold accentuates its openings, and we know gold is timeless—just like how your love should be.
6. Tiffany Blue Box
You probably heard about Tiffany & Co., and they have one of the best ring bearer boxes. Its wedding ring box is designed as a gift box in the famous color of Tiffany blue. It is perfect for weddings with a blue motif or any pastel color scheme.
7. Mr. and Mrs. Ring Box
If you prefer simple wedding ring box, you can go for the typical ones but with embroidered Mr. and Mrs. on each top. It is totally chic with velvet material, even the guys will agree to it.
8. Egg-Shaped Ring Box
No, it is not the usual egg-shaped compartment like those you haunt on Easter Sunday. It is one of the most sophisticated eggs you will ever see. It looks like a pumpkin carriage but silver plated. This box would be an excellent match for your marble tabletop at home.
9. Geometric Ring Box
One of the most unique ring bearer boxes is this wood box in geodesic shape. If you are in the same field of designs and architecture, it may win your heart. Inside has a leather cushion that secures your wedding bands just about right.
10. Marble Ring Box
This wedding ring box will add style and touch of posh to your wedding day. It is not just a plain marble box, but it has a silver stone knob that gives it a luxurious finish.
It does not matter if your engagement or wedding rings are made of diamonds. Love should not be that expensive; it is priceless. It also does not matter how you wear your wedding ring and engagement ring together, as long as you keep your promises with it.
Traditions say that wedding rings are put in the ring finger on the left hand because there is a vein from there that connects directly to the heart. Scientifically speaking, it is false, but the thought of it still makes a good story. The important thing here is you keep in mind that your engagement rings are the promise of marriage; wedding rings congeals that promise.
The rings are round to symbolize eternity, and that whole in the circles is a door—a gateway to eternal love. Keep your wedding rings in safe ring bearer boxes as well as you keep your vows to each other.
@BGBridalGalleryPH
Follow @BGBridalGalleryPH for useful wedding tips, unique ideas, and more.