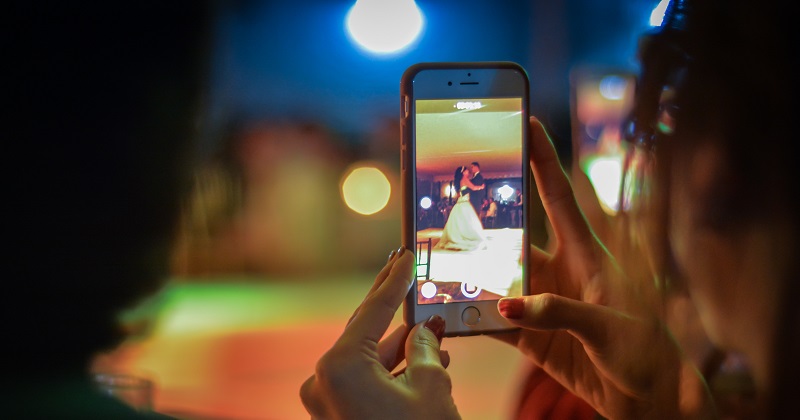 When it comes to tying the knot, couples will do almost anything to make their day memorable. Forget something old and something blue, because this year, it's all about the new. Nowadays, most of the wedding planning in the Philippines is taking a high tech turn from the old-fashioned walk down the aisle to digital wedding concepts. There are lots of new gadgets and apps out there helping couples take those traditional vows up a notch way up.

Thanks to innovations, it's now possible to add technology to ceremonies and receptions. From drone photography to smartphone charging stations, here are ways to make your wedding more impressive:
1. Bouquet Camera

More brides are placing action cameras like a GoPro or DJI Osmo Pocket in their bouquets and even in the Maid of Honor's flowers to film from a vantage point that wouldn't otherwise be captured. These action cameras will surely make your day extra memorable with candid moments from your family and friends.
2. GIF Photo Booth
Photo booths are undeniably popular at weddings, so why not add it with a new twist? Enter GIF photo booth, a photo booth that takes quick bursts of photos and brings them all together to form a stop-motion-style clip or a unique flipbook your guests can take home as souvenirs.
3. 360 Photo Booth
The 360-degree photo booth is another fresh spin (pun intended!) on the traditional wedding detail. Instead of just the usual, the guests will stand on a platform, and a camera will revolve around the guests to take their photos from virtually all angles. The result is a cool clip they can use for their social media accounts.
4. Charging Station

Your guests are definitely going to make use of their smartphones to snap photos and record videos throughout the day, so setting up a smartphone charging station where they can refuel their batteries would be very thoughtful.
5. Live IG Feed
Here's where your creative wedding hashtag becomes quite useful. Try the desktop app called Hashlider, which lets you collate all the photos posted with your hashtag in a slideshow. You can then use this slideshow as a live IG feed that plays during your wedding reception.
6. Custom Social Media Filter
If you're having a destination wedding, Snapchat allows you to create a custom On-Demand Geofilters in select countries. Through the cool feature, guests can take photos or videos with your custom filter and share them online.
7. Drones
Drone photography is another trend that's been taking off. Many couples are starting to use drones to take their wedding photos and videos to new heights, capturing superb aerial shots.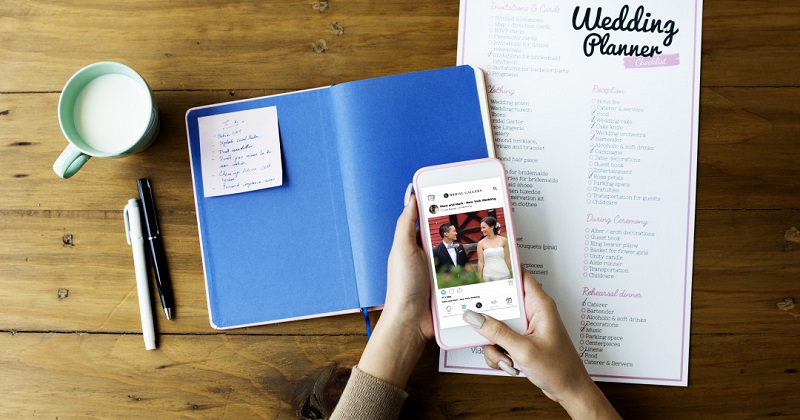 8. All-in-One Wedding App
BG Bridal Gallery is an app that lets you track all the different tasks that you have to do before the wedding day. Its checklist and reminders can be really helpful to keep you on track with the wedding preparation. You can even build your personalized wedding website and browse wedding ideas for free.
9. Fitness Tracker
A Swarovski Crystal Misfit fitness tracker is an accessory a bride can wear as she walks down the aisle or dances on the dance floor. It basically tracks her steps takes, distance walked, and even hours slept before and after the wedding day.
10. 3D-Printed Souvenirs
3D printing is changing how weddings are creating souvenirs. Creative couples who love DIYs would absolutely love this concept.
11. Beauty Apps

Beauty apps are becoming increasingly popular as more brides are getting creative with their wedding ideas. Apps like MakeupPlus can be used to visualize your wedding hair and makeup without needing to book makeup trials.
12. Robot Bartenders

Let your guests have more time dancing on the dance floor rather than spending too much time waiting for their drinks at the bar with robot bartenders. Up the wow factor by letting robot bartenders serve and entertain guests and keep the celebration going.
13. Hassle-Free Thank You Cards
Send your wedding thank you cards without getting a little overwhelmed with how many you have to send out. Make use of an app called Ink Cards, which lets you customize thank you notes that they can print and send via courier.
14. Live Streaming Your Wedding Day
When some of your loved ones from abroad or elsewhere can't make it to the big event, they don't have to totally miss the celebrations! Consider doing a live stream for them through accessible platforms like Facebook, Instagram, or YouTube. 
Need more tips for your upcoming wedding? Follow BG Bridal Gallery on Facebook.

@BGBridalGalleryPH
Follow @BGBridalGalleryPH for useful wedding tips, unique ideas, and more.