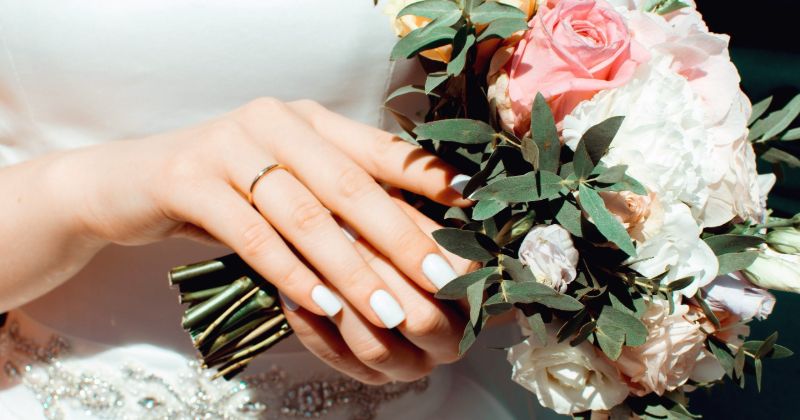 You might have heard about Gwyneth Paltrow getting married in 2003 when she eloped with her former husband Chris Martin, but she never actually had a real wedding before, not until last September 29.
She was finally given the chance to become a proper bride at the Hamptons and we were excited along with her. We didn't immediately get a glimpse of her big day because it was an intimate wedding but after a month, we've finally caught sight of one of the most talked about weddings of the year. Here are 3 interesting things we found that you can use as wedding ideas:
1. Her Wedding Dress Was a Lace Valentino
Paltrow marched down the aisle in her beautiful lace Valentino wedding dress under which she wore a nude lining, keyhole cutout back, fuller skirt, and cap sleeves. This Iron Man star must have prepared long and hard for her wedding since she even collaborated with designer Pierpaolo Piccioli. 
2. Paltrow Wore a Stella McCartney Romper for Her Wedding After-Party
Another trivia about Paltrow's wedding was that it was 80-s themed. In line with this, she had to move a lot when it was time for her wedding after party. So,  she ditched her wedding gown and went for a Stella McCartney caped romper so she and Brad Falchuk could dance to the beat. 
3. She Hired Two Celebrity Chefs for Her Wedding
A celebrity wedding deserves to have a celebrity chef on her big day, but for the case of Paltrow, she didn't just have one celebrity chef cook her food. She had two of them.  Paltrow said she finally got the wedding of her dreams with the help of culinary experts Mario Carbone and Francis Mallmann. 
Mallmann had to fly all the way to Chile for Paltrow's wedding, but this was one event he couldn't afford to miss. Once he arrived at the location, he immediately proceeded to prepare his "fire menu" which consisted of rib-eye steaks,  hung cabbage, salt-crusted salmon, and pit-cooked vegetables.
Carbone is well-known for his restaurant Carbone and Parm, which also happens to be the place where Paltrow and Fred went for their first date. So, having Carbone cook at their wedding was a really special treat.  
Here are more Paltrow wedding photos for you to enjoy:
For more wedding ideas and celebrity inspiration, download the BG Bridal Gallery app!
@BGBridalGalleryPH
Follow @BGBridalGalleryPH for useful wedding tips, unique ideas, and more.