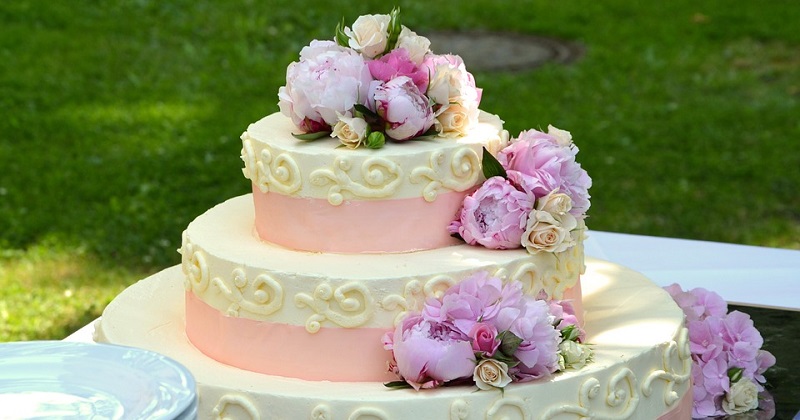 Traditional wedding cakes are timeless. While it's impossible for traditional wedding cakes to go out of fashion, we also know for a fact that some couples wouldn't settle for the classical white confection.
After spending months making the wedding truly unique (from the dress to the wedding bands and everything in between), why forgo personality for the sake of tradition when it comes to the wedding cake?
The wedding aesthetics might have hit the spot. Nonetheless, there's no harm in wowing your guests one last time. Therefore, choose a wedding cake that truly reflects you as a couple. Whatever type of couple you are, we're sure you'll find a wedding cake suited for your big day among these delicious alternatives. 
1. Chandelier Wedding Cake
Chandelier wedding cakes have undergone a great deal of development since its first inception by Colette Peter. Now, you'll come across cakes that you can mistake for an actual chandelier.
Magical suspensions and chandelier crystals give the cake the impression that it is lighting up. If you're into vintage style wedding cakes, you can ditch the crystals and replace them with drop pearls and scalloped lace edgings. 
Chandelier wedding cakes are usually hung upside down in an exquisite manner, but if that's not your thing, you can still create a chandelier-like effect using a perspex cake separator and then hanging it with crystals. 
2. Harry Potter Wedding Cake
Everyone dreams of going to Hogwarts someday. It's one dream you'll never be able to fulfill, but at least you can have the Hogwarts castle as your wedding cake or maybe turn cake tiers into your favorite Hogwarts reading materials. So whip up some butterbeer and grab your wizardly significant other. This is one wedding cake fit for witches and wizards. 
3. Ombre Wedding Cake
It all started with ombré-inspired wedding dresses and then came watercolor invitations which create an ombré effect all on its own. From the looks of it, the ombré-everything wedding craze is here for the long term. No one thought it would actually happen, but the ombré trend has finally infiltrated wedding cakes. 
You can experiment with different ombré hues. In one ombré cake, various shades of red were used to create a blended ombré look. In another popular option, bakers came up with a peachy-pink ombré treat with a succulent display as a finishing touch. 
4. Seashell Wedding Cake
Aim for beach wedding perfection with this seashell cake. You can have a three-tiered cake featuring a blend of chocolate buttermilk, raspberries, and chocolate mousse. Frosted in buttercream, a seashell cake can be embellished with royal icing corral, gum paste waves, and chocolate seashells with intricate glittery pearl dust.
5. Textured Buttercream Painting Wedding Cakes
There is always a new way to work with buttercream cakes. We have no clue who started the trend for painting wedding cakes, but it's the bomb. Textured buttercream cakes look a lot like oil paintings from which these cakes were inspired from.
Bakers use a palette knife to assimilate the look of an oil painting. The use of a palette knife for cake decoration isn't new anymore, but this wedding cake design surely is. 
Want to know more unique and delectable wedding cake ideas? Download our app in your mobile and visit BG Bridal Gallery!
@BGBridalGalleryPH
Follow @BGBridalGalleryPH for useful wedding tips, unique ideas, and more.