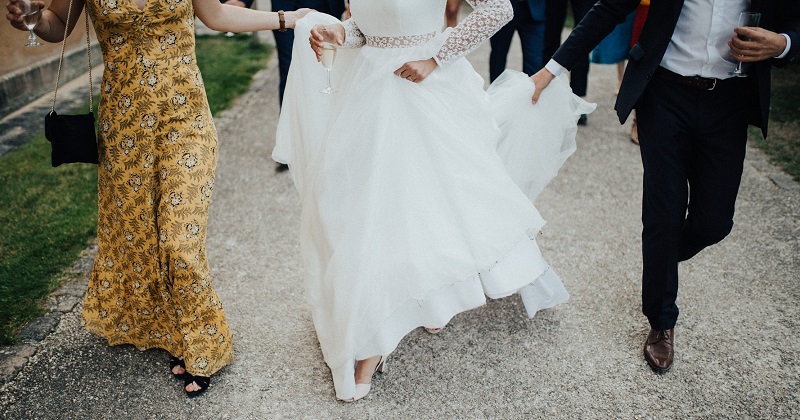 More than the venue of the wedding, or the food, or the floral arrangements, the wedding gown usually steals the highest spotlight during weddings. Brides flock to every designer, retailer, or bridal store just to find the perfect gown within their budget. It's all for that epic entrance at the ceremony that makes a lot of people teary-eyed. It's also for the bride to feel beautiful and confident in one of the happiest days of her life.
Sometimes, less is more. While still a lot of brides prefer intricately detailed designs with white or colored wedding gowns, simple wedding dresses have become popular nowadays.
When we say simple, we don't mean boring, unattractive gowns. It's just that these dresses are either minimally-decorated, seamed with sophisticated yet interesting necklines, unique with illusion sleeves, or subtly embellished or kept plain yet striking. These simple bridal gowns never go out of style, and some of them fit even a tight wedding budget.
There are several ways and hacks to make simple wedding dresses stand out and make a mark on your special day.


1. Prioritize a good fit and design.
Even if your dress has all the embellishments, the finest fabrics, and a long, wonderful trail, it won't look great on you if it's ill-fitting and if the design does not suit you. If you opt to pull out a simple wedding dress, it's wise to pick one that highlights your best assets.
There are recommended bridal gown shapes for certain body types, but if you have your heart set on a certain design, don't be afraid to ask your gown designer how to make it work.
Plus-size brides can wear serpentine gowns. Petite brides can wear ballgowns. You just have to find a couturier or bridal store that will tailor your dream gown to your liking.
2. Never sacrifice comfort for style.
We have seen a lot of people ignore this very simple tip—only to be confounded by all sorts of discomfort on their special day. To avoid going through this needless suffering, always put comfort as your primary priority.
Being comfortable in what you are in, you will look and feel great enough to enjoy the entire day, and you'll be able to radiate such elated emotional experience to those around you!
Comfort is subjective, however. If you want to cover up through long sleeves, go ahead. If you're inclined to show some skin, do it. If you don't find it a hassle to carry cathedral-length trail even if so many people are discouraging you, listen to your heart.
The best way to make sure you'll be comfortable on your wedding day is to try out your chosen dress (or a similar gown), move around, sit, and walk in it, and try different poses in front of a mirror in it.
3. Remember that "less is more" also applies to your bridal accessories.
If you decided to wear a simple wedding gown, invest in appropriate accessories to complete your wedding look. The right jewelry and hairpiece can certainly make even the simplest gowns stand out and turn the simplest bride into a jaw-dropping princess. The trick lies in the proper mix-and-match to accessorize your classic wedding gown.
Consider trendy drop earrings, a minimalist necklace, a small, sparkly tiara, or even a satin belt and bow for an A-line gown. You don't need to use these all together for elegance, though. Try on accessories after you have picked your wedding gown, so you can really see which ones suit you.
Make sure you don't overdo the accessories, though. For instance, if you have an already-embellished gown with an ornate neckline, you may do away with the necklace and invest in a nice pair of earrings instead. 
4. Aim for an "optical illusion."
Let's be real: some women have insecurities or flaws they would want to hide or avert eyes from, especially on their wedding day. Not everyone has the capacity or time to fix them in order to have their ideal If you're one of those women, make sure you tell your gown designer about it.
He or she may recommend corset-type bodices to give you the illusion of a curvy upper body, for instance, or a ballgown or A-line skirt to hide a bulgy lower abdomen.
Yes, we may be able to enhance our assets and somehow hide our flaws by using just the right specification for an accessory. This, however, should be done with great consideration on your individuality. Make sure that you still convey your personality and not someone else's.
Learn to love every single detail of your looks and your curves, then look for the best ways to enhance them.
5. Pick the right wedding hairstyle.
A woman's crowning glory might not be cooperative on most days, but it has to be on its best behavior on her wedding day. Make sure that your hair is styled neatly and that it completes your look. You can keep it simple or go all-out—whichever you think suits your simple dress best.
Remember to pick the right bridal hairstyle that best complements the elements of your dress and your accessories. Make sure your hairstyle is in accordance with your wedding theme, too, and that any bridal hair accessory you use matches your gown and other jewelry.
6. Express yourself!
Whatever it is that you want to consider when choosing a wedding dress, it is important is that it is the representative of who you are. Every element that is found in your overall fashion statement embodies your life story and these symbolisms convey a story well-knit in the context of time and space.
For example, you may be dressed with the most feminine details ever thought of, but you can still make it edgy by sporting modern hairstyles and the use of hair accessories or jewelry. In such case, you may opt out of using a veil. Just be confident and be comfortable in your own skin.
That's the best way to make a simple wedding gown—or any dress for that matter—stand out.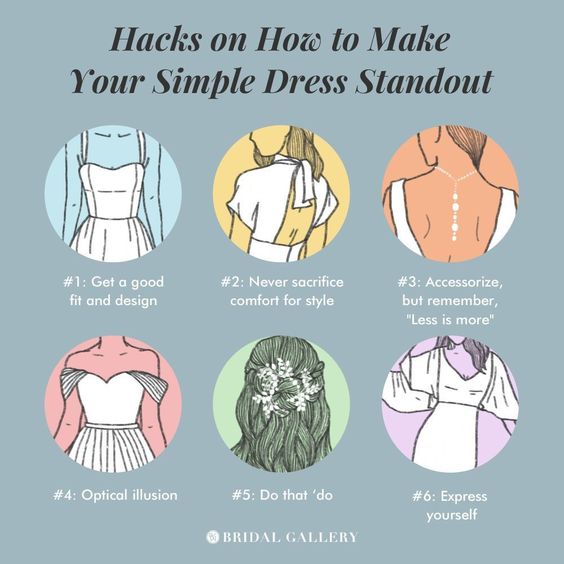 For more tips on picking a wedding dress, visit the BG Bridal Gallery blog or download our app!


Share this Image On Your Site
@BGBridalGalleryPH
Follow @BGBridalGalleryPH for useful wedding tips, unique ideas, and more.