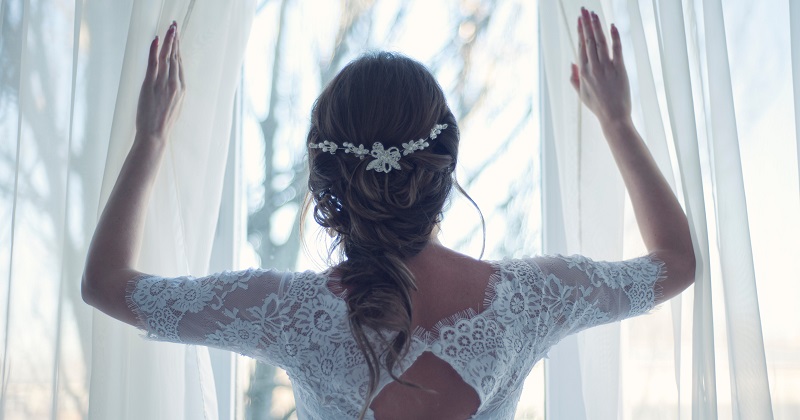 The bride needs to look beautiful on the wedding day. When we say beautiful, this doesn't just refer to the gown and makeup alone. The bride also needs to have an awesome hairdo to complete her wedding look. With all the beautiful hairstyles out there, choosing a single look for your wedding is easier said than done.  Here are some tips on picking the right hairstyle for your wedding.
1. Think of the gown first
It's not just about finding a hairstyle pleasant to your eyes. You also need to take your wardrobe into consideration. The hair and gown should complement each other. 
Never decide on a hairstyle without trying on the gown first. Just because the hairdo looked good as you tried it on, doesn't mean that it is going to look as good when you finally flaunt it on your wedding day.
2. Factor in the chosen venue
After considering the gown, the bride should then factor in the venue that will be used for the wedding. Should it be outdoors or indoors? Should it be located in the city or the countryside? Should it be a garden wedding or a beach wedding? The hair also needs to sync with the surroundings and venue. 
So if the wedding will be held in the church, the hairstyle used should suit formal occasions. If it is done outdoors, the hairstyle should still be formal, but a bit loosened up. The temperature should also be taken into consideration when choosing a hairstyle. In this aspect, it is crucial to, again, look at the venue to see what the weather will be on the big day.
3. Consider the shape and features of your face
If you have a long face, consider an updo since hair extended downward can make your face look longer. Meanwhile, if you have a square face, your hair needs to be pulled away from the face. A round face, on the other hand, will look great with a hair that's styled upward. 


4. Take advantage of your hair type
Is your hair long or short? Is it naturally wavy or straight? Are hair extensions needed? Looking at your current hair condition will help you choose a style suited for your hair. 
5. Use matching accessories if necessary
Hair accessories can also help enhance the hairstyle of the bride. If you are going to wear a tiara, know that it will only look good if you have straight hair. Otherwise, your curls will just hide it from view, but fear not, because a bit of straightening will do the trick. 
Floral crowns are also a pretty cool accessory to wear on your hair, but just the same, it is most suited for people with straight hair.

6. Consider wearing two wedding hairstyles
You should opt to have two hairstyles—one for the wedding ceremony and another one for the reception. This is just to prepare you in case there are festivities that will require you to have a second wedding hairstyle. 
That being said, it is important for the bride to consider how the reception program and activities will proceed after the wedding. There will be times when the bride will need to engage in activities that require a loose hairdo. 
7. Try out different hairdos


You know when a certain hairstyle is going to look good on you, but there is nothing wrong with finding out for sure. Try on different hairstyles first before making a decision. 
8. Have fun in choosing!


It is also important to enjoy the process. While looking good is imperative, feeling good is of greater importance. 
Have you decided on your wedding hairstyle? Download the BG Bridal Gallery app and browse more wedding ideas and tips on your bridal look!
@BGBridalGalleryPH
Follow @BGBridalGalleryPH for useful wedding tips, unique ideas, and more.