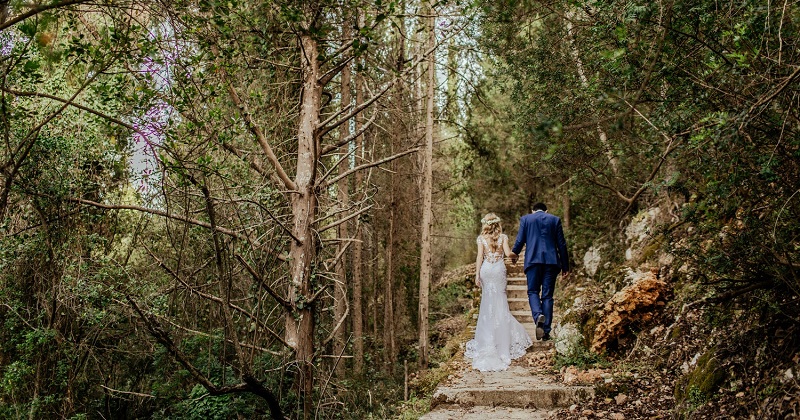 Destination weddings are a great idea, especially if you're the type of couple who love to travel and feel like it has strengthened your relationship. However, choosing the specific location for the big day might be overwhelming for the bride and the groom since there are a lot of astounding wedding spots to choose from.
If you are still searching for that ideal wedding destination, worry no more because we narrowed down nine of the dreamy wedding venues in the Philippines that are perfect for your most special day!
1. Circa 1900
Circa 1900 is one unique wedding reception that you should take into account. Found in Cebu, Circa 1900 is a colonial, ancestral residence that was restored as a restaurant and piano bar. Because of the attractive design of the house, they also offer functional rooms for events and celebrations.
Brides and grooms will surely be mesmerized with the old-fashioned charm of this location. It has a bizarre power that reignites the flicker of the past days while living in a modern world. If you want to go back in time and experience the history and culture during your wedding, Circa 1900 is the venue to be!
Circa 1900 is known for its international cuisines that are cooked with local ingredients. Couples also love the heritage house's original architecture preserved in its four function spaces in their Casa Uno's ground floor. It includes The Stable that is perfect for small gatherings (read: very intimate weddings) of 15 people. The Sala can cater to 50 guests, while Cusina can accommodate 60 guests.
The most enchanting and captivating reception of all would be The Garden. Celebrate in this beautiful yard that can fit up to 150 people. Another nice thing about the receptions in Casa Uno is that there is also The Upper-Level dining area that can fit 100 people. Plus, it also includes a private room for 30 pax.
Casa Dos, an ancestral house that is just across Casa Uno, also features function rooms. It has two reception areas namely, Galleria Jereza and Belvedere. Galleria Jereza is a wonderful reception space that can cater to 60 people. The other room, Belvedere, is an al fresco wedding venue. Its open-air function area is perfect for poolside parties and has, indeed, a one-of-a-kind ambiance.
Circa 1900 is a beautiful remnant of the past. Having a wedding here will give you a sense of balance and well being through thinking and eating better while preserving and appreciating the Filipino heritage and culture.
2. Oakridge
Located at Mandaue in Cebu, Oakridge is visualized to be a mindful sanctuary within the city. This place is master-planned to be a center of community values with work and play balance. The developers fulfilled this providing invigorating open spaces, various dining places, and recreational lifestyle venues.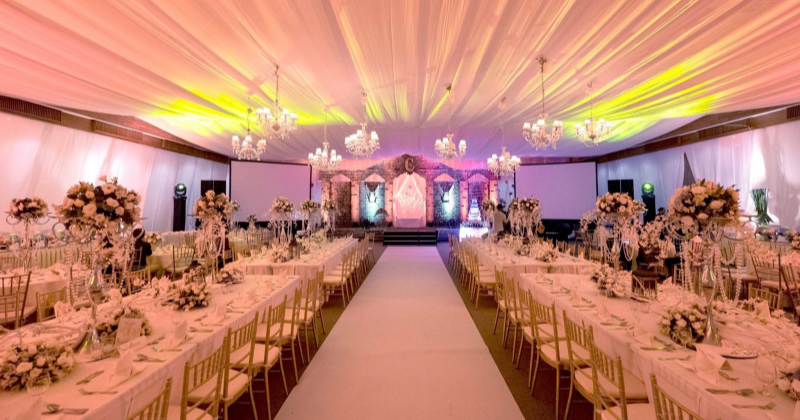 Oakridge opens dreams, opportunities, and possibilities for businesses, entertainment, and even for celebrations. Perfect for couples who are not only planning their wedding but also looking for a place to settle down in, Oakridge makes a great choice.
Apart from being known as a business park, Oakridge also takes pride in its event venues namely Oakridge Pavilion, Oakridge Horizons, and Mahogany Hall.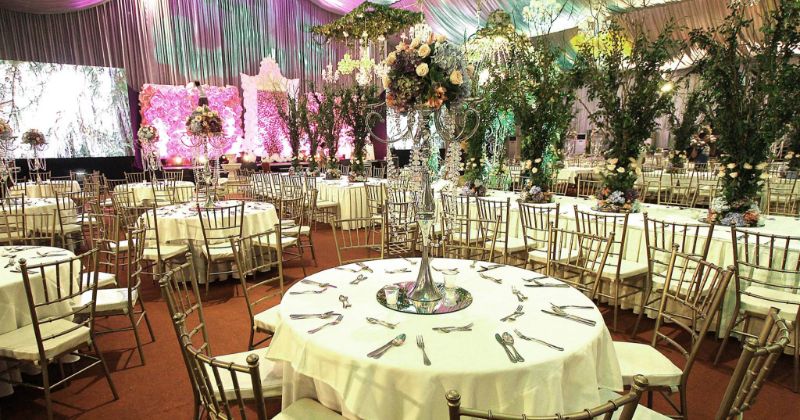 Oakridge Pavilion is an elegantly-designed reception with high ceilings and glass foyer that is perfect for grand weddings. Oakridge Horizons, on the other hand, has floor-to-ceiling glass panels that overview the impressive scenery of the city.
The thing you would like the most with Oakridge is that you can transform their halls with your dream wedding theme. Yes, all those extravagant wedding themes like romantic, galactic, movie-inspired, and the like can be brought to life here. From being a community center to a wedding venue, indeed, Oakridge is a versatile venue for any kind of destination wedding. 
3. Chateau By The Sea
From the mountains to the sea, the Chateau events venues developed by Victor and Sons Realty Corp aspire to make people's dream celebrations come true.
Similar to the refreshing break from urban living that the mountains of Chateau de Busay provide, Chateau by the Sea also breathes life into any significant milestones and special gatherings with its stunning coastal views and tropical panorama.
Definitely, your beach wedding dream can come to life at Chateau by the Sea. It can cater to your reception needs whether it is a small gathering or a grand wedding. Each of its venues has a unique edge for every size.
One of which would be the Harbor. It has a wooden platform with the seaside as its backdrop. It is perfect for intimate affairs with a capacity of 20 persons maximum. The Wharf, on the other hand, is a pier at the farthest end of Chateau by the Sea. It is perfect for semi-secluded events and private gatherings of up to 50 people.
There is also the Seaside Promenade, which has the best beach view of all. It is also the biggest al fresco reception in the complex—it can handle up to600 guests! Aside from these outdoor venues, there are covered halls in Chateau by the Sea that can make your wedding an event to remember as well.
4. The District Boracay
Another beachfront wedding venue that a future Mr. and Mrs. should check out: The District Boracay. This boutique resort is literally right in the very famous island of Boracay—making it very romantic for your destination wedding.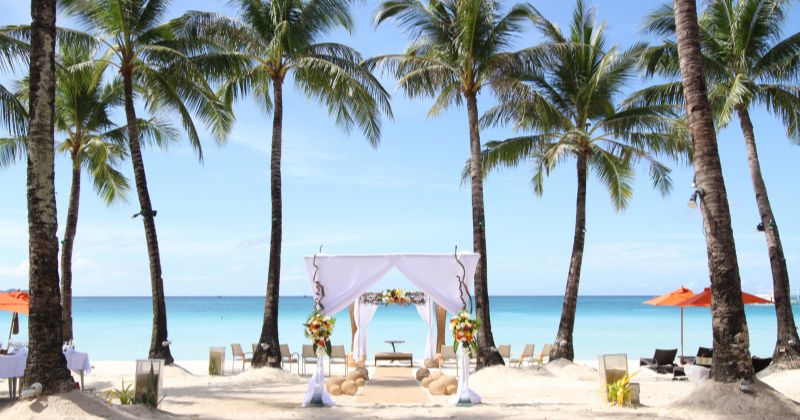 Nestled at the Station 2, The District Boracay has been known for its contemporary facilities and brand of service that is unlike any other. 
Having been acclaimed as a great venue for over the years, brides and grooms can trust this resort to give a splendid reception for their big day. The District Boracay owns a picturesque sky-view Star Lounge and an unparalleled reception that overlooks the lush palm trees, sparkling blue waters, and the glorious sunset that will take your breath away.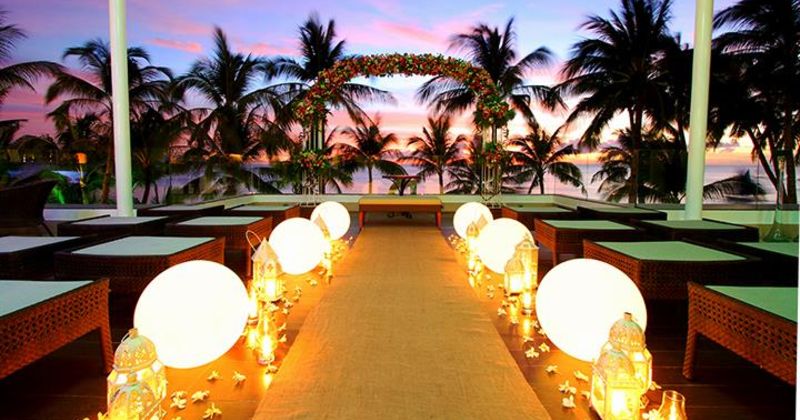 Getting married in this wonderful island while hearing the sounds of the waves and feeling the breeze of the sea would be very dreamy. Who could resist a beach wedding at one of the best beaches in the Philippines, right?
With the assistance of The District who takes pride in providing ocean bliss and a modern atmosphere, you can celebrate your special day here for cherishable memories that you can treasure forever.
5. Hotel Kimberly Inc. 
Whenever destination weddings are the topic, Tagaytay must naturally be included in the list! Tagaytay has been a popular wedding location for brides and grooms because of its proximity to the metro. Also, the city of Tagaytay has a cool climate that sets a tranquil mood for everybody.
Its beautiful, scenic views add to the reasons why you should book at Tagaytay. One of the excellent wedding receptions in Tagaytay that owns breathtaking landscapes would be in Hotel Kimberly Inc.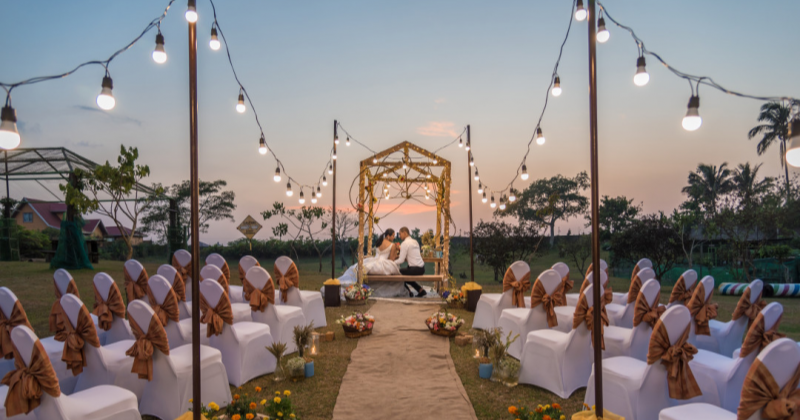 Hotel Kimberly is known for its sophisticated accommodation, contemporary facilities, and genuine service. It is also notable for its expansive event venues. It has eight
wedding reception
 options you can choose from, and the biggest venue can cater up to 600 guests.
Outdoor weddings at Hotel Kimberly Inc. are usually held at the Joya Pavilion. There, you can customize your own set-up according to your wedding theme and make your dream wedding come true.
6. Escala Tagaytay 
Aside from garden weddings, brides and grooms are attracted to Tagaytay wedding venues that have the overlooking backdrop of Taal. Of course, sighting a blue sky, calm waters, and the ever-historical volcano with your eyes while exchanging the sweet I do's... What more could you ask for, right?
Escala has one of the best views of Tagaytay—and this is why you have to consider Escala as your dream wedding spot. It has outstanding rooms and preeminent facilities, too. Plus, the warm hospitality of the staff makes the venue stand out.
Escala goes beyond the idea of a hotel and reception. This is where urban lifestyle meets the mother nature. For sure, engaged couples would love this unique trait of Escala in Tagaytay.
7. Casa Bendita Events Place
If you are the bride and groom who want a destination wedding but do not want to travel that far, Casa Bendita Events Place is the answer. Thanks to the much-improved transportation, gone are the days when you need to travel far away just to look for beautiful and extraordinary wedding venues.
Close to the Pililla Wind Farm, this hideaway in Rizal is an ideal place to celebrate your precious moments for the big day. As to what they claim, Casa Bendita is more than just an events place. It is a place of memories—memories of love, happiness, and delight—that give meaning to life.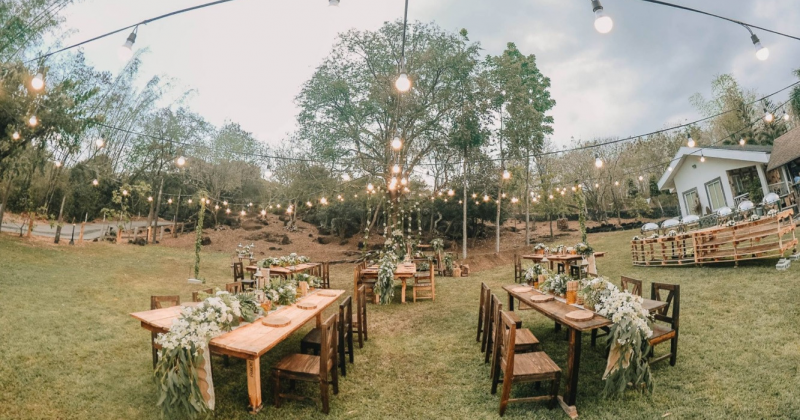 Casa Bendita Events Place created its name because of its fascinating prenup and reception venue. Thanks to the green sceneries of the sprawling trees and lofty mountains, the casa gives off an invigorating aura that uplifts the mood of the bride, groom, and wedding guests.
Speculated to be the next Tagaytay, Rizal houses this venue that is
perfect for garden weddings
. Suggested themes would be rustic, whimsical, and romantic because they would be suitable for the natural beauty of the place.
8. Mangrove Conference and Convention Center 
The surrounding greens and astounding views will make you want to choose the Mangrove Conference and Convention Center because it gives your eyes a feast through the island's natural beauty. However, aside from those majestic wonders that are found in Puerto Princesa, this wedding venue also offers eco-friendly measures that can help the environment.
If you are the couple who advocates helping Mother Nature, make sure to list Mangrove Conference and Convention Center as one of your wedding venue options for your big day.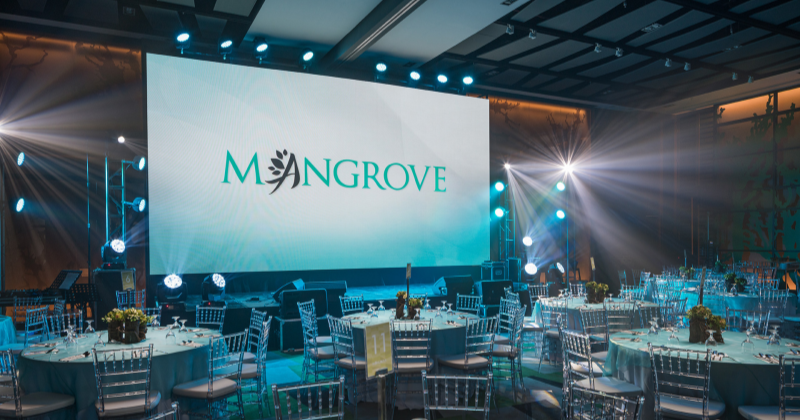 With its 439-square meter area, Mangrove Conference and Convention Center features one convention hall and two function rooms that are perfect for private celebrations like weddings. Its two function rooms have collapsible dividers that can seat up to 200 guests. On the other hand, the hall is a spacious venue with a maximum guest capacity of 450 people. 
Mangrove Conference and Convention Center uses renewable energy sources for their electricity through solar panels. Being developed by Astoria, Mangrove Conference and Convention Center features modern architectural style while being drawn to the inspiration of Palawan's diverse ecosystem.
9. Masungi Georeserve
Another dreamy destination that you might want to consider on your wedding: Masungi Georeserve. You heard that right! Masungi Georeserve is not only an environmental park where you could hike and experience outdoor activities. Masungi Georeserve also features an ideal venue for a wedding reception for nature lovers and adventurous couples!
In fact, Masungi Georeserve can accommodate small to big gatherings as it can host events for up to 150 people. Getting married in Masungi Georeserve would be very unique. This is not the typical wedding venue you would see because apart from garden weddings, you could have a forest wedding here!
Similar to their principle regarding nature conservation, Masungi Georeserve treats the sacrament of matrimony as a lifetime commitment. This is why they make sure that meaningful gatherings and special celebrations are pulled off in their location while they bring people closer to each other, and thus, to nature.
The structures within the premises are designed and constructed by the locals, a community who cares with heritage, culture, and life. Celebrating your big day at Masungi Georeserve, you also contribute to the sustainability of the environmental sanctuary. 
With the spectacular limestone formations and combined sightings of the Sierra Madre Mountain Range, Laguna de Bay, and Manila skyline, for sure, brides and grooms will be fascinated with this stunning venue. Indeed, Masungi Georeserve is a cloud nine on Earth that will make you realize that a dream can definitely come to life.
No doubt—you can live the dream on your big day! However, you have to make sure that the chosen destination for your wedding fits your wedding budget as well. 
List down every need in a wedding checklist
, and remember to prioritize the most essential ones. This way, you can achieve the wedding you are fantasizing of and, at the same time, prepare for the future life that is coming your way.
Still thinking about where you should hold your dream destination wedding in the Philippines? Sign up in BG Bridal Gallery for additional tips and ideas for your big day!
@BGBridalGalleryPH
Follow @BGBridalGalleryPH for useful wedding tips, unique ideas, and more.