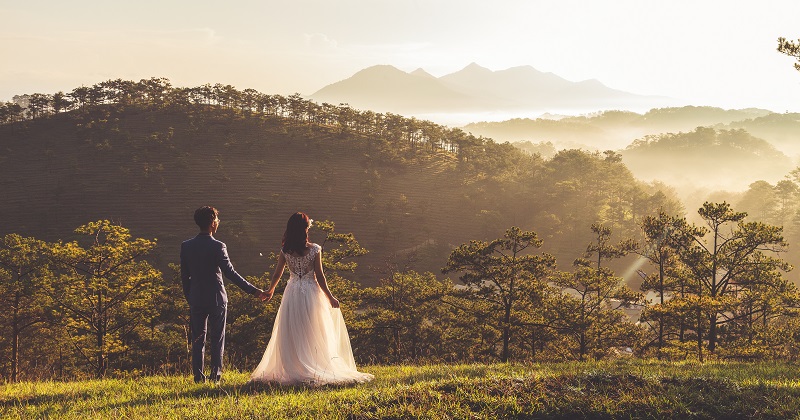 Coming from someone who has already attended lots of weddings before, we can surely say that it's a privilege to attend one, but for someone throwing the grand celebration, it's not all wine and roses.
Sure, we all wait for the moment we finally tie the knot with the one we love, but with an occasion as great as this, the last thing you want is for your wedding guests to be checking their watches every hour.
This calls you to look for the perfect wedding venue, one that's stunning and interesting, one that won't bore your wedding guests.
Just like everything else, looking for a great wedding venue starts with asking the right questions. Our wedding planners helped us prepare these 11 questions that you ought to ask to aid you in deciding the best wedding venue for your grand celebration.
Is the Wedding Venue Big Enough?
Maybe the wedding venue is big, but just how big? It might be spacious enough to accommodate all your guests, but a wedding is barely complete if there's just a wedding venue filled with guests.
With that, your wedding venue needs to be big enough to accommodate all your activities as well.
You have to think beyond just welcoming your guests and escorting them to their seats. Think about eating and dancing. You may also want to consider other games and entertainment that you plan to have.
Is it spacious enough for everyone to move into freely? It's also important for your guests to feel comfortable moving around your wedding venue as they engage in your activities.
On top of that, there should also be some space where non-dancers can hang out and talk over cocktails while everyone else is having fun on the dance floor.
Is It Available on Your Dream Wedding Date?

Yes! You found it! The perfect wedding venue!
Finding the wedding venue of your dreams can leave you in an emotional state. Any minute, you could fall in love with this particular hotel, beach, barn, or whatever kind of wedding venue you're planning to book. Before you get there, we suggest you ask first when the place will be available.
Something could look so perfect and yet it might not be meant to be. So, before you get your dreams of a perfect wedding venue shattered, you might as well reassure yourself that your venue will be available on your wedding.
How Will You Keep People Comfortable in All Types of Weather?
Do you want to evade from traditional wedding venues? Maybe you just want to minimize your wedding costs. Surely, having a real garden wedding is more affordable compared to an indoor garden-themed wedding.
There are downsides, however. What if it rained on the day of your wedding? What if it wasn't exactly the beautiful summer day you were hoping for? What if it was scorching hot in July?
You can do your research in advance, but sometimes the weather is unpredictable. With that, we think you should look for wedding venues that offer air-conditioned areas for your guests in case it gets too hot.
Yes, just because a venue is outdoors doesn't mean they don't have shaded areas where people can rest. On top of that, you may also want to consider getting a wedding venue with heaters and lots of cozy spaces for your wedding guests.
How Will It Look in the Month You Plan to Get Married?

You're visiting wedding venues these summer months and you imagine all the birds chirping. You imagine the natural light of the sun shining through your wedding as if it was blessed, but you forgot something. Your wedding takes place this November. So much for your summer outdoor wedding.


It doesn't usually matter what month you decide to get married, but it can have an impact on how the atmosphere. For instance, a July wedding won't have the same lighting and aesthetics compared to a wedding done in November.
With that, you may want to choose a wedding date depending on your wedding theme and how you imagine your big day to be.
Can the Venue Accommodate Your Wedding Guests?
Maybe you have relatives in a wheelchair. Perhaps, you're expecting your little cousins to join you at your wedding. There are no limits in the kind of wedding guests you can have on your big day.
With that, you also need to book a wedding venue that can accommodate whatever guests you have on your big day.
Some wedding venues are willing to pull in extra effort for special guests. However, there are other venues that offer limited services.
That being said, you need to take a closer look at your wedding guest list before making a final decision on your venue.
Will You Have Access to Your Wedding Venue Before Your Big Day?
Your wedding is certainly a day you want to remember. You know what that means: photos! Lots and lots of them.
Sure, there will be many photographers taking your picture from every angle, but what about the day before the wedding? While it's good to have some candid photos, as a bride you'd also want to create memories with your friends, entourage, and a number of special people who helped you throughout your wedding planning.
Maybe you want to have space all to yourself so that you can snap a few shots with your bridesmaids. You want to have a mini pictorial with your groom. This is something you may want to check with the venue owner.
How Will Your Guests Get There?

As a bride, you have two objectives. First is to make your wedding the best day of your life. Second is to make sure that everyone in your guest list has the time of their life. With that, the last thing you want is for them to have a hard time getting to your wedding venue.
So, one thing you may want to ask the owner is if the venue can be accessed by public transportation. Ask what parking options they have.
If your wedding budget can afford it, you may want to rent a bus to transport your guests to the venue.
What Other Events Will Be Taking Place Alongside Yours?
Whether you plan to have a classic or modern wedding, your big day is still something you want to keep solemn. With that, the last thing you want is to hear noises coming from the other room when you're supposed to march down the aisle.
If it's already your wedding and you realize that there are other events going on, there's nothing much you can do about it.
With that, you begin asking questions. Ask the owner if there are also other events happening nearby on the day of your wedding. You can also start doing your research on how loud the other events might get on your special day. That way, you'll be more prepared to face the circumstances on your wedding day.
Where Will You Get Dressed Before the Wedding Ceremony?

Not all wedding venues have an on-site preparation room for you and your wedding entourage. It's best to ask the owner early on so that you can decide if you'll book an extra room or not.


If you're picking a hotel near your chosen venue, make sure you inquire early to avoid running out of suites and nice rooms. You might be able to score deals in some hotels, too, if you book several rooms together.
For other tips, get a free consultation with our expert wedding planners at BG Bridal Gallery.
@BGBridalGalleryPH
Follow @BGBridalGalleryPH for useful wedding tips, unique ideas, and more.