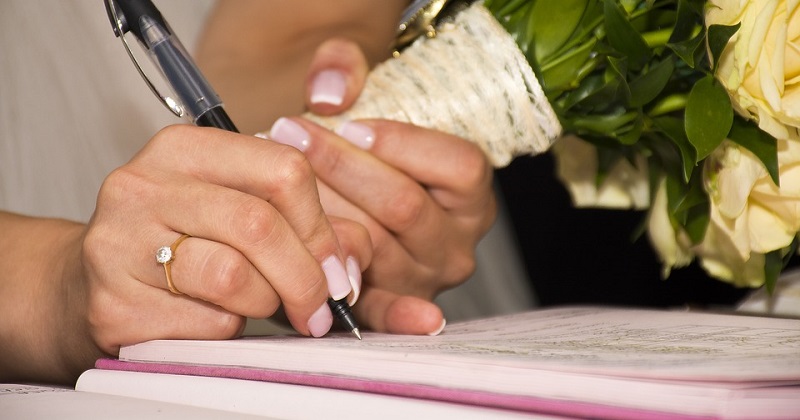 When it comes to wedding preparation, there is one thing that you should never forget: your Marriage License. Without this, you cannot be legally married. Even foreigners are required to get one if they're getting married in the Philippines, and both civil and church weddings need it.
Here is a two-step guide on getting your marriage license and what you need to know about the requirements:


1. You and your fiancé should go to the local civil registrar (LCR) of the city or town that you are residing in.
Both parties will be needed, so both of you need to be there personally—no ifs and buts.

2. You and your partner will be needing the following documents:
The latest certified true copy of your and your partner's Birth Certificates issued by the PSA or Philippine Statistics Authority (original and photocopy)
Notarized Affidavit of Parental Consent
This applies to brides or grooms below 25 years old. For 18 to 21 years old you will be needing your parents or guardians consent, for 22 to 25 a written parental advice telling that your parents are aware of your plans on getting married. You can bring your parents or guardians, a notarized consent or advice will be accepted, too.
Latest Certificate of No Marriage (CENOMAR) or Certificate of Singleness for both the bride and groom (original and photocopy)
This will prove that you have not been married previously. The CENOMAR is issued by the Philippine Statistics Authority or PSA (formerly NSO) with a P210 fee per individual, per copy (the cost is higher for online applications with delivery—P430 through PSA Serbilis and P465 through PSAHelpline.ph). You may also apply through accredited partners of the PSA like SM Business Center. 
Community Tax Certificate or CEDULA (original and photocopy)
Barangay Clearance (original and photocopy)
At least 2 Valid IDs (original and photocopy)
2 pieces recent ID picture with white background (size is 2 x 2 or 1 x 1, depending on your LCR)
Marriage License Application Form (Issued by LCR)
Certificate of Attendance in a pre-marriage counseling, family planning, and responsible parenthood seminar
This seminar is conducted by the church or by the DSWD. The family planning and responsible parenthood are held at the health department of your town. Check their schedules for the seminar. You will be asked to attend those seminars before your wedding if you have not secured the certificate before applying for your marriage license.
The requirements and policies may vary per LCR or place of residence. Some might have cut-offs or certain schedules for marriage license applications, too, so be sure to inquire with your LCR before applying. 
Here's a more detailed guide for your reference:
Wondering what's next after the marriage license or when you should apply for one? Download the BG Bridal Gallery app on iOS or Android, and check the comprehensive wedding checklist prepared by our expert wedding planners.
@BGBridalGalleryPH
Follow @BGBridalGalleryPH for useful wedding tips, unique ideas, and more.