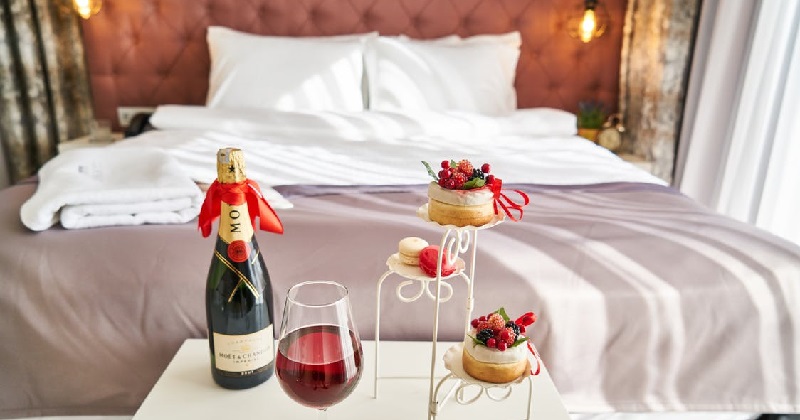 We know how much you struggled with your wedding planning. Even your Big Day can be taxing with all the productions from your hair and makeup to having cold feet yet feeling ecstatic during your walk down the aisle and bawling your eyes out during the exchange of vows up to attending to your guests at the reception. It seems like a year (or even longer months of wedding planning) of tedious work. "I do," only consists of two words but the amount of frustration, dilemma, sweat, and tears you spent before you got to say it was immeasurable. Well, those two words are timeless, anyway. It is all worth it, isn't it? "I do," is probably the sweetest "I love you."
Now that the wedding venture is over and we know how dealing with people can be so draining. It is time for you to get back that energy within your system! You know what that means, right? HONEYMOON!
Since the Philippines is quite a hot and humid country (no, actually, scratch that. It is scorching hot in here!), why not have a Tagaytay honeymoon? Tagaytay is situated at a high altitude giving its atmosphere a cooler temperature than in the metro. It is also practical and easy to drive to; a nice getaway from the city. It is a good alternative to Baguio if you are yearning for the cold climate.
Let us see which Tagaytay honeymoon places you may find your heart beating for from this list we curated just for you.
Photo Courtesy of Villa Ibarra
Villa Ibarra
Villa Ibarra has a stunning spiral staircase giving off a vibe of vintage and old Disney fairytales. It is situated in the ridge of Taal Lake and to complement the sounding view around it; it has a solitary piano and a chandelier that hangs in grandeur. Its rooms and suites have a rustic design that gives warmth to your Tagaytay Honeymoon.
Summit Ridge Hotel
Summit Ridge Hotel is one of the top Tagaytay honeymoon places that gives you a grand view of the Taal Volcano. The hotel has impressive facilities like dining, shopping, and recreational facilities. There is also a badminton and basketball courts indoors aside from a gym, and a swimming pool.  There is also a Truffles and Bar Café that serves both local and international cuisine.
Taal Vista Hotel
From Taal Vista Hotel, you can also savor the majestic Taal volcano in its full glory. Whether it is at dawn or twilight, you will see how the world changes hues—illuminating the volcano even more. Isn't it nice to stay in a cozy place while you enjoy the natural scenery of Mother Earth?
Tagaytay Highlands
If you desire a contemporary luxurious destination, Tagaytay Highlands is the place for you. Couples can even play and enjoy golf within its premises because it has Asia's most invigorating golf course. It has world-class fine dining and facilities. Tagaytay Highlands also has splendid residential complex perfect your Tagaytay honeymoon.
Discovery Country Suites
Discovery Country Suites is situated adjacent to the Taal Volcano giving you a more unobstructed view of the landscape. Of course, do not forget to enjoy the vision of Taal Lake. Imagine waking up in the early morning with birds chirping nearby and the air filled with the aroma of coffee that you can share a cup with your partner.
Photo Courtesy of Escala Tagaytay
Escala Tagaytay
Escape the city and enjoy the sanctuary of Escala Tagaytay. It has modern architecture amidst the scheme of nature.
The Q Hotel and Events Place
This hotel has a Mediterranean concept and offers solemn accommodations. It also has a mini library with 500 books that you can enjoy during your stay! Hello, book lovers!
Balai Taal
Enjoy the sight of a forest valley and sloping hills from your Tagaytay honeymoon in Balai Taal. The place stands for "your very own private piece of paradise."
Hotel Kimberly
Hotel Kimberly offers a unique activity that couples may enjoy together like harvesting their own vegetables from the vegetable and herb farm. There is also an animal farm where couples may feed and pet the lovely creatures.
The Lincoln Place
The place for classic log cabins with a view of scenic terraces around it. The premise has a fireplace on its own giving a homey vibe. It also has a clubhouse for the pool and garden area.
Whichever Tagaytay honeymoon place catches your heart, it will never be caught as hard as you captured each other's lives. Sappy much? Hey, you must admit that made you smile and feel so kilig. Your honeymoon is just another starting point to your marriage. Take this time to reflect your vows and remind each other that this journey is never going to be easy. We hope you find time to step back and see the root of miscommunication when things go wrong, and that you find the will in you to compromise whenever these necessary. May this Tagaytay honeymoon give you a broader perspective about each other.
@BGBridalGalleryPH
Follow @BGBridalGalleryPH for useful wedding tips, unique ideas, and more.