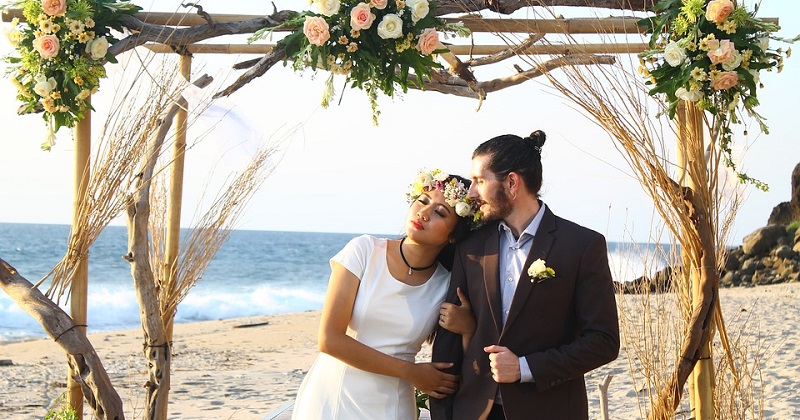 Weddings would always create a priceless and unforgettable moment for any couple. It is something you would hold dear for the years that are to come and remember for the rest of your life.

This is why couples who love the beach see it romantic to tie the knot while hearing the sounds of the waves, feeling the salty air pressing against their skin, and touching the sand with their toes. There is something about walking down the sandy aisle that gives any bride and groom a warm, fuzzy feeling.
Beach weddings evoke a lot of feelings for the bride and the groom (even for the guests actually). It definitely goes without saying that exchanging your promised vows with an ocean view backdrop is simply heart-stirring. However, having a wedding at the beach can be a bit of an undertaking, too. You have a lot of things you should consider before that fun-filled reunion weekend with the whole squad.
Here are some helpful wedding ideas and tricks that you need to know in order to achieve that dream wedding of yours.
Find your perfect beach destination
When you decide to pull off a beach wedding, the next thing you have to think of is the wedding location. There are plenty of stunning beach wedding venues in the Philippines. Where would you want to hold your ceremony and reception?
Is this going to be at your favorite beach? Or at the shores where you spent special memories? Do you want a beach wedding in Batangas, Boracay, Cebu, or Palawan?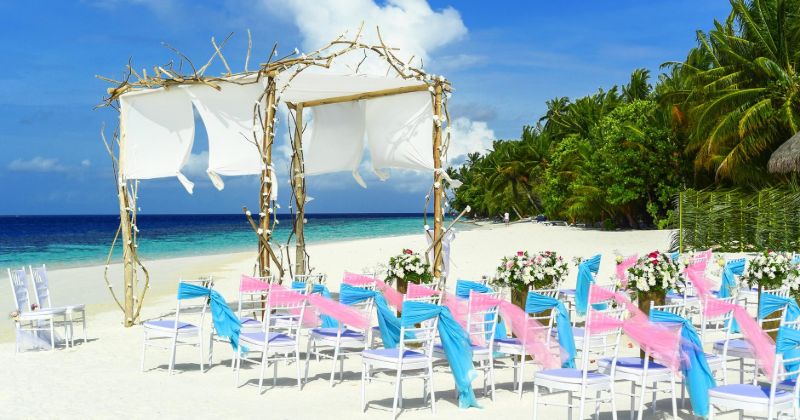 After deciding on the wedding venue, you still have another question you have to ask yourselves. Is the wedding going to be in a private or public beach? Or are you planning it inside a luxury resort with beachfront views?
You have to take into account the specific locations as well. Why? Because you have to book reservations here months or even a year prior to the big day. Keep in mind that some beaches tend to be overcrowded, especially during the peak months of March to May.
Indeed, there are public beaches where you can hold your wedding. However, it is essential that you reach out to the local community regarding the proper procedures you might do for your special day. You must inquire if there are permits you need to make, so you will be authorized to do your wedding there. Also, make sure that you and your guests will follow the ordinances when getting married on a public beach.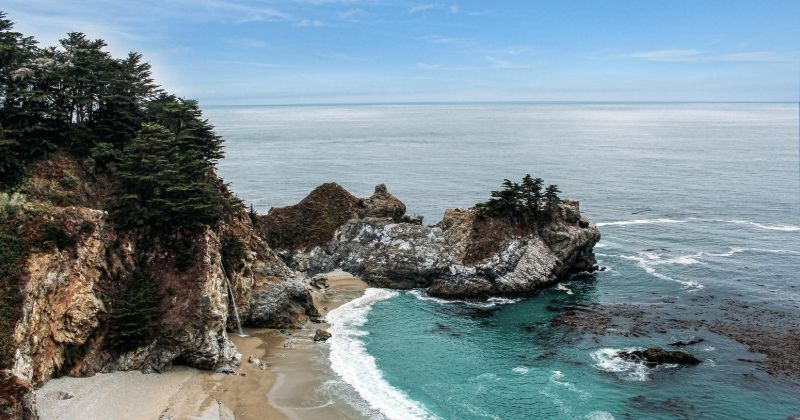 It goes the same with private-owned beaches. There are owners who create policies in order to maintain the place, so make sure that you familiarize yourself with these rules and regulations they have set. Saving the dates in a private beach, there are also permit fees and clean-up charges that you must check on. If you are wondering what is the edge when renting a private beach, it would be the seclusion and intimacy. Here, you can peacefully spend the whole place to yourselves.
Since your wedding venue will be on a beach, you should think of the facilities like restrooms and electricity access, too. Also, do not forget to base your wedding theme on beach elements, too. Lastly, consider if the number of your guests can fit in the location as well, and ask the venue about its capacity.
Dress up in a cozy wedding attire
Beach wedding attire is a lot less formal than in other types of weddings. Your guests won't need the long gown and black tie attire here. However, you do not want them to show up in swimsuits and trunks either. This is why you should set a gentle reminder in your printed or online wedding invitations regarding the proper dress code.
Light, airy fabrics, such as cotton, silk, and sheers are the key for style and comfort! Your female guests can wear long gowns in the form of maxi dresses. Beach weddings are all about sundresses and soft shawls being blown by the wind, right?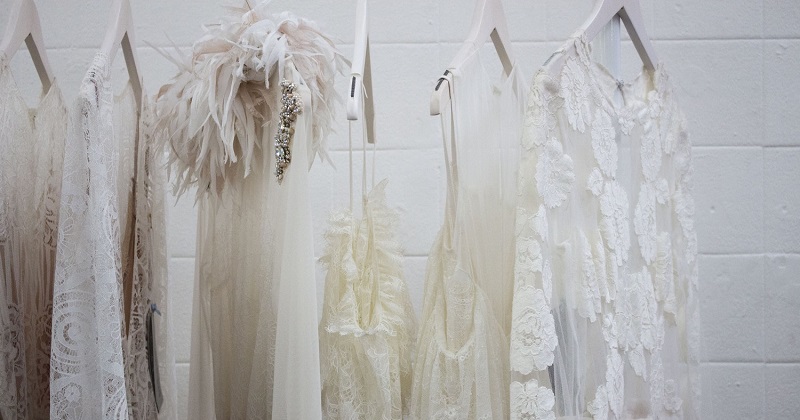 As for the male guests, they can opt for sport linen suits. However, if the temperature is really high, the guys can show up in a loose shirt or comfy polo and khaki shorts or pants.
Grooms should not worry about his wedding attire when marrying at the beach. He could still be stylish even if he would skip the coat. Grooms usually wear a combination of a linen shirt, vest, and trousers. What's cute is that he can add some sunglasses to put additional oomph to the attire (and to hide the happy tears just in case, too)!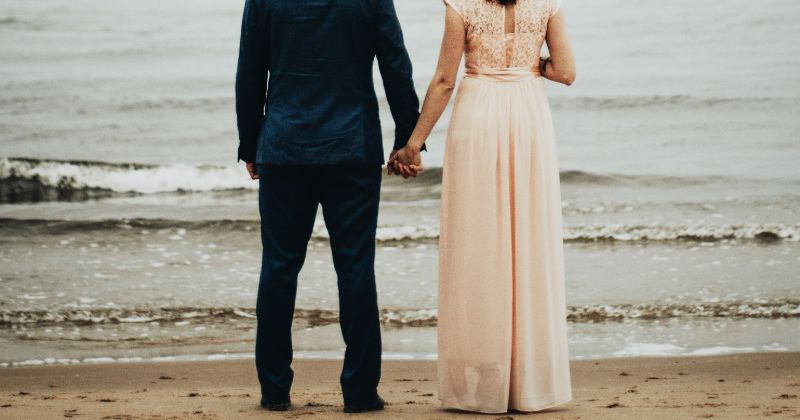 For the beach brides, on the other hand, you should not opt for a bulky ball gown because it might look awkward and overly cumbersome in the setting. When thinking of your wedding attire, make sure that the dress is made in lightweight linen. Choose the styles that are carefree, yet beautiful.
The wedding venue can be windy, so long veils are not that advisable. Letting your hair down would be nice, but with strong winds might ruin the style. Loose updo hairstyles are then recommended.
Beach weddings are not strict whether the guests, the bride, or the groom are on slippers, sandals, or even barefoot. You and your guests drove a long way to come here, so go on and enjoy those fine sand beneath your feet! Besides, you are on a beach, remember? The dress code here is more of a cozy and comforting style.
Maximize the beauty of the wedding venue
The best thing about weddings on the beach? You do not need much when it comes to wedding decorations! Mother Nature already provided a wonderful backdrop through the waters and mountains surrounding you.
The beach in itself will do its job to make your big day effortlessly beautiful and breathtaking. Add just a bit of creativity in your set-up and it will turn the place into something extra special.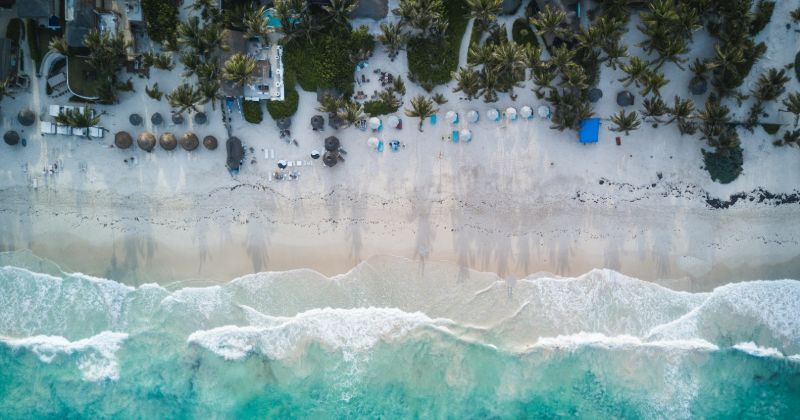 You do not need any flashy elements when having wedding ceremonies on the beach. As for receptions, you can add wedding decorations that are connected to the seaside setting such as shells, starfish, anchors, lanterns, and the like.
Of course, you have to enjoy your wedding. Therefore, think of all sorts of activities that you can add on your big day while staying here at the beach. It can be a night filled with games, live music, and dancing, or even bonfire with fun stories. Try to come up with some enjoyable beach wedding ideas to maximize the use of your venue.
Timing is everything
Though people say it is a blessing in disguise, rain is still considered a killjoy when it comes to weddings—especially if you are having a beach wedding in the Philippines.
Couples usually schedule their big day a year ahead, so no one exactly knows if there will be high tides or typhoons on the day of the wedding. With that being said, schedule your big day during that time of the year when there is less to no rain in your chosen area. If you having a beach wedding in Batangas, for instance, research the usual months with good temperature in there.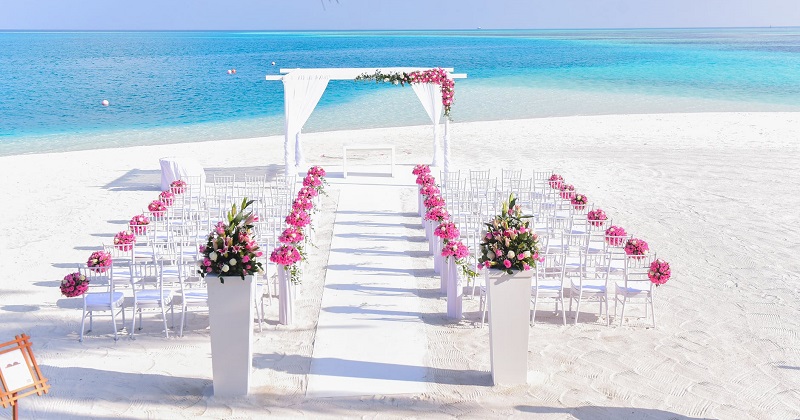 In addition to the right timing, you have to know that morning and sunset wedding ceremonies are more preferred rather than the afternoon ones. The midday heat can be brutal, especially on the seaside areas.
High temperatures are not good, particularly for your older guests. You can only consider afternoon weddings if you have enough shade or shelter. Of course, you want to see your partner clearly when saying the promising vows. You do not want to be squinting when you take your wedding photos, too, right?
Have a backup plan
Whether it is a beach wedding in Batangas, Marinduque, or Zambales, to have a beach wedding in the Philippines is definitely a dream. However, even if you scheduled your wedding during the summer season, there's still a possibility that it might rain. Sometimes, it is the strong winds that make weddings unbearable, too.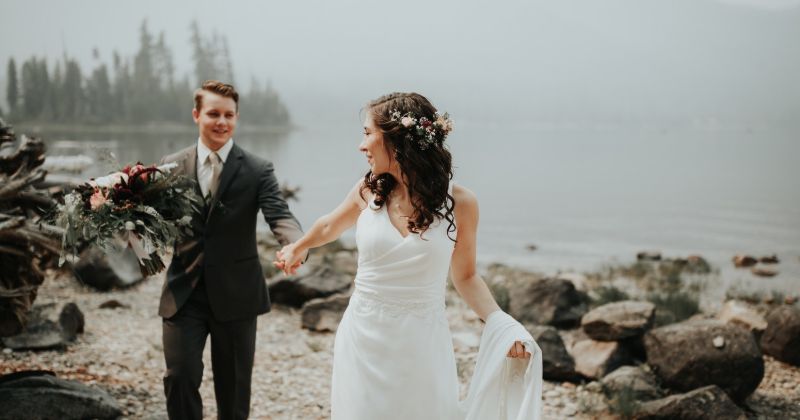 To ensure your dream wedding goes without a hitch, prepare a Plan B just in case some things do not go exactly according to the plans. For instance, you can ask your wedding venue team if they can provide you with an indoor space in case of bad weather. Mother Nature is unpredictable. It is better to be prepared, so you would not panic on your most awaited day.
You also need to have backup plans when it comes to your wedding attire. What if the buttons of your groom's vest tripped off? What if the zipper of your dress split? This can also happen to your flower girl and other guests, so you have to prepare an emergency sewing kit. It will be hard to run errands to the city since most probably, you are at a beach and thus, in a rural town.
Make the guests comfortable
The wedding guests may not remember all the details written in your wedding invitation, the color and kind of the flowers in your wedding bouquet, or the verses that were read during the ceremony, but they will remember how they felt at the wedding day.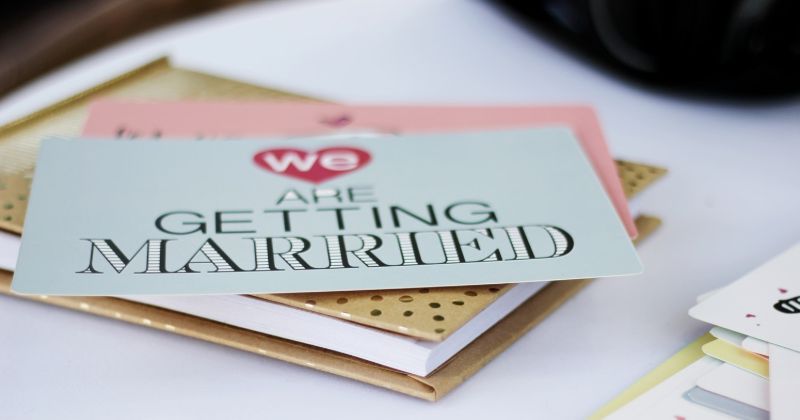 Your big day gets a little more significant when celebrated with the people you love. It may be your most awaited day, but the measure of a successful event is how comfortable the guests were.
Since they pulled big efforts to come to your destination wedding, you can return the favor by making sure they are in a good state during your wedding day. To do that, make sure that you have plenty of bottled water for your guests, as beach weddings are synonymous with summer heat.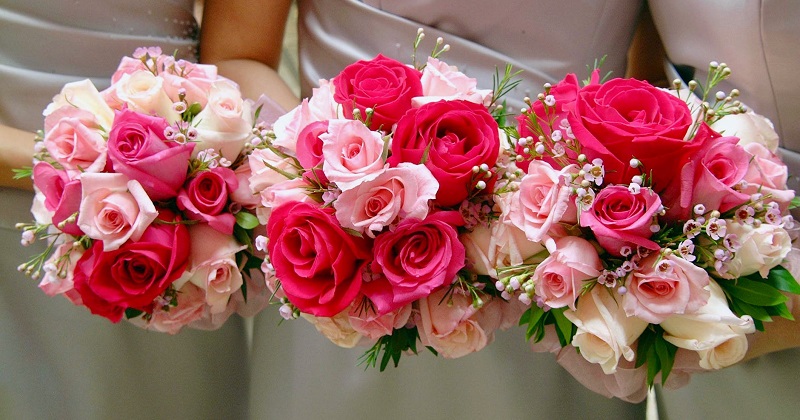 Help everyone to keep cool by providing paper fans or portable mini electric fans. If you want to be creative, you can get your wedding invitation printed on thick paper like cover stock. Then, in the envelope, place a popsicle stick with double-sided tape at its back. Tell your guests to bring these essentials, so that when they stick the popsicle to the back of the card, the invitation can then be doubled as an improvised fan. It is an inexpensive and bright wedding idea that will totally help your guests beat the heat.
You can provide items like sunscreen, affordable sunglasses, and even bug spray to ensure your beloved guests are comfortable, too.
Get yourself a wedding planner
With destination weddings like this, hiring a professional planner can make your wedding preparations so much easier. Wedding planners will definitely give you a number of beach wedding ideas that you might want to apply for your big day.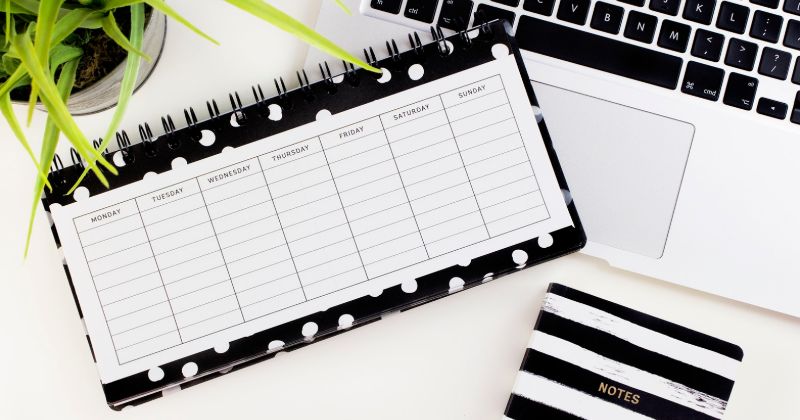 With these people by your side, a bride and groom do not have to go through all the wedding planning struggles by themselves. You can make use of a wedding planner's expertise to guide you on the ins and outs of a wedding.
Planners know the logistics by heart and for sure has a comprehensive list of suppliers who can cater to your needs. He or she has expert eyes in finding merchants that are perfect for your ideal wedding. What is amazing here, they can help you score discounts, too! Hiring these consultants will definitely help you pull off a successful beach wedding.
Considering a destination wedding, particularly at the beach, is a wonderful way to gather your family and friends all together. Your wedding will be a celebration of love, at the same time, a mini-vacation for all. Such a wonderful idea, right?
Looking for more inspiring tips that can help you pull off your beach wedding successfully? Get a free consultation with BG Bridal Gallery for additional wedding ideas!
@BGBridalGalleryPH
Follow @BGBridalGalleryPH for useful wedding tips, unique ideas, and more.