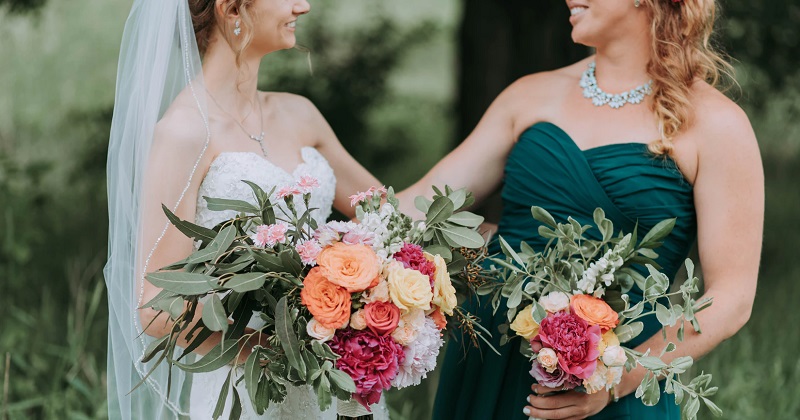 The maid of honor (MOH) is usually the bride's best friend who acts as the principal bridesmaid at her wedding. On days and months prior to the wedding, she will be the bride's personal assistant, shoulder to cry on, jester, and a whole lot more.

While bagging the title of maid of honor may be glamorous, the duties and responsibilities tied to this wedding entourage role should not be taken lightly. So if you've been given the privilege to be the MOH, tighten your ponytail and put on long-wearing make-up for your tasks ahead.
We have jotted down these tasks for you to do before, during, and after the wedding.
Pre-Wedding
Help the bride find the right wedding dress and be there during fittings
Help the bride look for the perfect bridesmaids' dresses for her wedding entourage.
As the ringleader of the bridesmaids, coordinate with all of them and spearhead in planning hen parties like the bridal shower or bachelorette party.
Help out with the pre-wedding tasks like creating a Pinterest wedding inspiration board, attending bridal fairs, meeting with vendors, addressing wedding invitations, inspecting wedding venues, and even doing some crafts for the wedding itself.
During the Wedding
Prepare an emergency kit and first aid kit for just-in-case moments during the wedding.
Act as a point of contact for the bride. With her permission, answer any inquiries about the wedding on her behalf.
Assist her in getting in and out of her dress and even when she has to pee.
Stand by the bride and be ready for her needs when she is at the altar. Arrange her train and wedding veil.
Hold the bride's bouquet during the wedding vows.
Help round up the wedding party and the guests for the photos.
Sign the marriage license as a witness.
After the Wedding
Help the bride retouch her make-up and get into her dress for the reception.
Give an awesome speech that is short, sweet, and heartfelt during the reception.
Help out at the reception by showing the guests where they are seated.
Take note of the gifts and gift giver so you can help the couple send out thank you notes after the wedding.
Encourage the guests to participate in the activities and games
Help the bride change into her honeymoon get-away clothes.
Just be available for the bride and provide any support she needs and you will be the best MOH ever!
Make your maid of honor (or matron of honor) and the rest of your wedding entourage feel more special by including them in your wedding website, which you can create for free through the BG Bridal Gallery app. Write a short intro and maybe let guests know how you met, what makes you close, what you love about them, or all of the above! 
@BGBridalGalleryPH
Follow @BGBridalGalleryPH for useful wedding tips, unique ideas, and more.