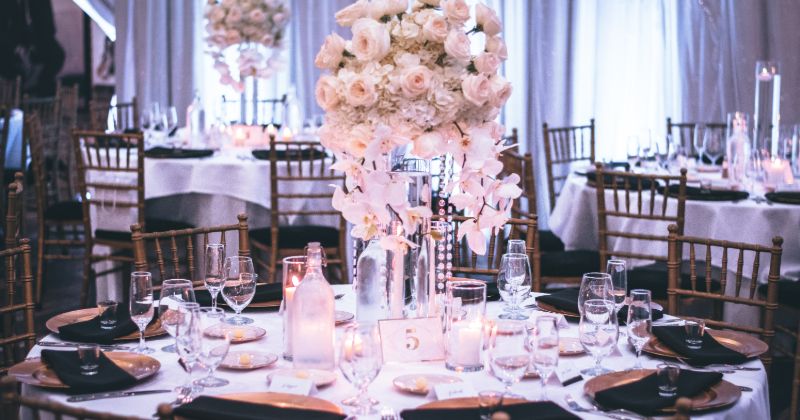 Almost any wedding professional would tell you that no wedding is the same. These experts have already encountered lots of different couples that would demand a thing or two to make their Big Day extra unique and distinctive from others.
The only similar thing about weddings is probably the fact that most of your wedding budget goes to your venue, and along with it is the catering service—of course, in any wedding, there is food!
However, even when it comes to catering service, it can be different for each type of wedding. From the menu to the ways on how to serve the meal, there are just too many options.
So, before you book your caterer, you need to settle things on your end first. Sorting decisions about these things will help you limit your list because it would already give you an idea of what you need and want from a wedding caterer.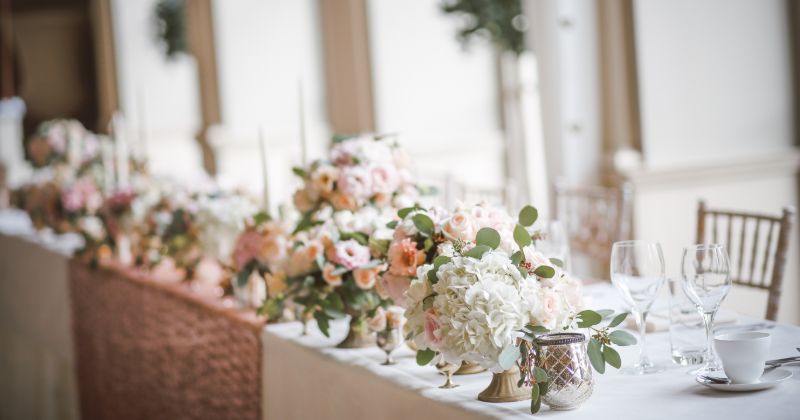 There are different ways on how caterers serve the menu. Here are the choices for food-service that you need to consider before you book your caterer.
The restaurant wedding – for the most part, some of you might think that it can only be possible in some expensive and super fancy. Well, not really. Some restaurants can accept you on their premises as your wedding reception. However, you must remember that some restaurants are not used to the big crowd, especially making food for many people all at once. We know how a restaurant typically works, so make sure that they have enough people to cater you—on time, that is.


The full-service catering – it is a total package of all the wedding caterers. They do not just do the cooking; they also set up your tables and chairs along with their wait staff. Aside from those tasks, they also clean the kitchen and dining area, and then throw the garbage and pack the leftovers. You are not just paying these people for the food they make, but for the overall service they provide, too.




The food in trucks – yes, it is a thing! If you think that there are just mostly coffee trucks that you can hire and send over to a shoot or event, think again. Food trucks can be a little less formal, though, depending on how your wedding caterer would make it look. It is all about how they serve the food and decorate the trucks. They serve like portable commercial kitchens that can serve the menu on the counter. However, with this type of service, the tables are on you (as well as the logistics).


The tradition and tested wedding caterer – no, they do not just serve traditional food. These caterers can cook the food you want on the menu depending on the contract you sealed. Although you might want to check first with your venue if they have any preferred caterers to work in their location. Some sites can recommend good caterers to you, and those who already worked there, which can be beneficial because these wedding caterers already know the dos and don'ts of the place.


Self-catered wedding – you know you can if you want to! Do you have relatives who insist on cooking for your wedding? Why not? However, please be mindful that they won't be able to enjoy your wedding that much if they are busy doing the kitchen.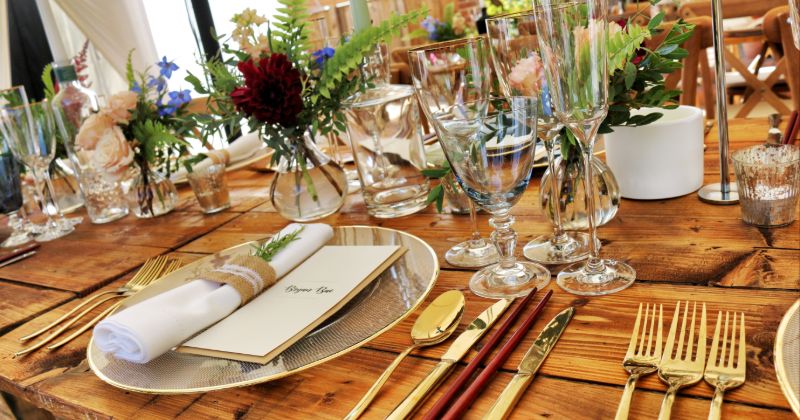 Now that you establish the food service you prefer, you would also need to identify the type of meals you want to be served at your wedding.
Cocktail Hour – if you are going for a cocktail type of wedding, this is the perfect meal type for you. It only includes the booze and heavy appetizers or any snacks that can come with the drinks. Usually, this is also designed with cocktail tables with no chairs because the focus is on the dance floor or mingling around. You might think that it will save you bucks avoiding the main course—well, sure. But, think about the drinks you are going to serve, too. They can be expensive as well.


Buffet Meal – definitely one of the favorites (at least, for us)! Sure, this is the most affordable among all the service options, but that is for staffing only. Remember that buffets can cost you a great deal for the food cost. It is not a buffet after all if it looks empty! If you are hosting a huge wedding, make sure that there is indeed enough food for anyone. Talk to your caterer and make sure there is food control no matter what. But then again, it is buffet; your guests are not expecting any less.




Family-Style Meal – it is probably one of the most convenient for your guests because they will just be waiting for the food to be served on the table. Imagine a family dinner on holidays or any other occasion where a platter of food are passed around—as the name suggests, it is like that. Although in this case, you would need more people for serving compared to the buffet style. Of course, you would want the guests to be served all at the same time. Leaving a table or two may not be ideal, you can't leave others waiting while others are already starting to eat in this meal type.


Brunch – it is true that you can save a little for the alcohol bill for having a day wedding (you can entirely skip the intense drinking part on the venue). However, your guests may tend to eat more during the day than night time wedding. Do you have enough food to fill them up?


Seated meal – it is the most traditional among all the traditional wedding meal options. If you imagine a formal event in a massive ballroom, the seated meal can be like that—yes, with the stylish wait staffs in suits. With that said, you can also expect how expensive it can cost you. 
Your meal options should, of course, coincide with your wedding theme and budget. After figuring these choices and types for wedding meal services, it is time to book your caterer that can make it happen for you. It is necessary to ask these questions before you make your final decision:
How flexible is your service?

As mentioned earlier, no wedding is the same, and you have your own set of preferences, too. Having a wedding caterer that can adjust to your chosen set-up can be your best choice.  


When did you start on the business?

You would want a wedding caterer that has been doing this for quite some time now. The longer they are in the business, the more you can be assured of their expertise and flexibility. Their skills have already been honed through the past caterings they provided and served. 




How does the food tasting work?

It is one thing to see the caterers' portfolio, but the food should be tasted. Sure, the presentation is guaranteed, but what about the taste? Some caterers need you to sign the dotted line first before they host a tasting for you. Meanwhile, there are also those who will charge you for the food tasting. Be mindful of those who do not entertain food tasting at all! 


Can I have the same quality of food I had during tasting?

Given that there has been a food tasting, make sure that the quality of the food is the same on your wedding day, too. You might be surprised how much you are impressed during the tasting, and then it all tastes different on your Big Day. Though, it is unlikely to always happen because it will ruin the caterers' reputation, ask regardless.




What are the payment terms?

It is one thing to set a budget, but it is a completely different story when making the actual payment. Some catering services might not accept credit cards or check and stick to a cash basis. It is essential to know this as you make your list of payables for the wedding. Also, see if there can be reservation and installment as well as the fees for it, and when do you need to settle the remaining balance if that's the case. 


How flexible is your package?

Most wedding services come with various packages. It is imperative that you know all the inclusions as well as the additional fees and other charges. Also, what it means to you and your budget if you want to be more personalized with the menu. Since you already have your meal type and options in mind, see how much it would cost you if they cater to these needs and preferences you have. Any changes in the number are critical, especially if you are on a tight budget. You would not want to compromise other aspects of your wedding just because there is a blow-up of hidden charges with your wedding caterer. 




Where do your supplies come from?

Yes, you can be meticulous about the food and where the ingredients are from. But aside from that, it will give you an idea about the standard they have on their service. Also, you can see here why they charge high or less than other wedding caterers. Sometimes, it is not just the service; it is the suppliers, too. 
Make sure that you ask these things before you book your wedding caterer. Also, remember that whatever comes to your mind, it is always best to be transparent with the wedding caterer you are dealing with. Do not be afraid to ask to make sure that you have the best food served to your guests.
Browse the country's best wedding caterers on BG Bridal Gallery's wedding suppliers directory. You may also visit our showroom in BGC for our everyday bridal fair and book your preferred caterer on the spot!
@BGBridalGalleryPH
Follow @BGBridalGalleryPH for useful wedding tips, unique ideas, and more.