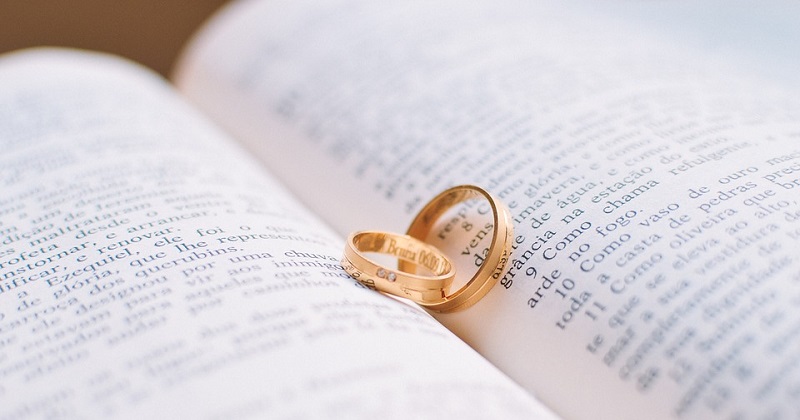 What boggles every engaged couples' mind about wedding preparations? Thinking about the extraordinary ideas on how they can make their big day memorable—not only to themselves but for everybody.
Couples mostly search for the aesthetic appeal that pleases the eyes. However, aside from different ways to beautify the wedding venue, it is also the wedding vows that overwhelms any husbands- and brides-to-be.
Wedding vows are lifetime promises exchanged to one another by a deeply-in-love couple during matrimony. It is the giving of vows where the entire concept of the binding hinges on. Normally, vows contain each other's wedding wishes for the life they will be living. It is the center of the wedding ceremony and the foundation of every marriage.
When it comes to reciting vows, you have two options—whether to go for a traditional vow or settle for a personal one. Still thinking about how to deliver your vows? Keep on reading.


Traditional Wedding Vows






Traditional wedding vows are the standard lines and conventional phrases you will recite on your big day. Each traditional vows differs in every religious faith. These wedding speeches are classic and still considered as romantic since they are from the sacred scriptures. 

If you are going with traditional vows, you do not have to think of any wedding day quotes or write any wedding wishes. There is no time to be nervous because you do not need to impress your spouse (and the guests) with such highfalutin words and cheesy lines.
After all, a couple can always have a heart-to-heart talk someplace where it is just between the two of them anyway. This is ideal for intimate couples who want to say those sweet personal words to their partner privately. 
Traditional vows have an already-prepped-up template that you can follow. We quote this sample traditional vow from traditionalcatholicpriest.com.
"I, ______, take thee, ______, to be my lawful husband/wife, to have and to hold, from this day forward, for better, for worse, for richer, for poorer, in illness and in health, to love and to cherish, until death do us part."
We know that you have become too familiar with these lines. They can be heard in almost all real weddings and television shows alike. Traditional vows have already existed ever since wedding traditions were invented. Probably, this is why most couples prefer to adapt to these traditional wedding speeches.


Personal Vows






Everyone wants a beautiful wedding, but you should still be cognizant of what truly matters—the moments. This wedding may only seem like one event at a glance, but in the weeks or months to come, this event will become a memory. One unforgettable way to create excellent memories? Write a personal vow.  
Weddings can be detracting, especially if you are the one involved with all the wedding preparations. The level of pressure tied to being engaged can take a lot from you. However, you might want a little break from all these preparations and start writing your wedding speech instead. Saying those wedding quotes, jotting down all persevering promises, and visualizing the lifetime wishes might make you relaxed while waiting for the big day.
If you are thinking of reciting a personal vow and still do not know where to start, you can read a lot of inspirational wedding day quotes on the internet, magazines, and books. Just feel your heart and say your wishes. Vows of love should not be taken so hard—it should be taken with words (and actions) that are full of love.
Traditional vows remain to be a top choice for couples because it has been around ever since everyone can remember. However, personalized vows will ensure that you are able to genuinely express your love and affection for your partner.
What wedding vow will you recite on your most awaited day? Sign up on BG Bridal Gallery to access more wedding inspirations. 
@BGBridalGalleryPH
Follow @BGBridalGalleryPH for useful wedding tips, unique ideas, and more.