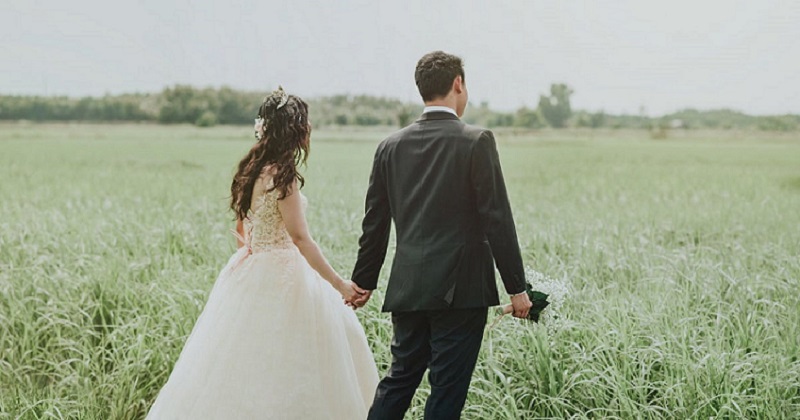 Another year has come, and it can be the year you finally tie the knot! Whether you just got engaged or you're getting married sometime this year, you probably have the wedding budget in mind. How much budget should you allot when planning a wedding in the Philippines? How can you make your dream wedding happen without breaking the bank?

As a start, below is a wedding budget breakdown we curated to give you an idea of how much each wedding category costs—from the usual wedding venues in the Philippines to popular wedding giveaways. It could help you see the bigger picture, as well as the smallest details. Knowing the numbers can also help you plot techniques on how you can save without compromising the quality of the occasion.
**This estimated wedding budget breakdown list is good for 100 guests or more**
Legal Marriage Documents
Of course, you want your marriage to be legally recognized. Papers and documentation would cost you a portion of your wedding budget and they are among the most essential things to attend to when it comes to planning a wedding in the Philippines. Whether it is a civil or church wedding, there has to be a marriage license. The requirements are as follows:
Certified True Copy of NSO Birth Certificate
Affidavit of Parental Consent or Advice (for couples under the age of 25)
Certificate of No Marriage (CENOMAR)
Certificate of Attendance in Pre-Marriage Seminar
Community Tax Certificate or Cedula
All of these can sum up to PHP3,000 to PHP6,000, and it may depend on the location (and local government policies) of the church where you are getting married.


Ceremony Venue
Some churches only accept donations while others may require fees. Some packages for a wedding ceremony can range from PHP7,000 to PHP25,000. Cathedrals in more central or in-demand locations and those with air conditioning can have more expensive fees.


Reception and Catering
Most or at least half of the wedding budget goes to the wedding reception venue. You have to make sure that it can accommodate all your wedding guests, and that the food is enough for the whole party.
Reception venue rental and decorations can cost from PHP35,000 to PHP150,000. The area and capacity of the venue would determine the cost. Meanwhile, your catering cost can sum up from PHP50,000 to PHP185,000. It will mainly depend on the headcount and the number of dishes that will be served.
Various wedding venues in the Philippines have in-house catering and include a wedding cake, as well. In case your chosen caterer does not provide it, your wedding cake can cost PHP4,500 to PHP15,000.


Videography and Photography
Millennials often say, "Pics or it did not happen." It seems trivial, but if you think about it, you would want to encapsulate your big day through photographs and videos. Living in a digital era, outputs for this are undeniably better than the previous generations. Your photos would be as clear as a good day, and the videos are surely not pixelated.
Photo and video teams can charge from PHP35,000 to PHP130,000. Special inclusions of some wedding suppliers in Manila like prenuptial shoot, same-day edit, and aerial videos can make this more expensive.


Wedding Attire for the Couple and Entourage
You probably have "the dress" that you have been dreaming of since you were a kid. A typical bridal store in the Philippines can offer wedding gowns for as low as PHP5,000 and as high as PHP150,000. For the groom, prepare to shell out PHP2,500 to PHP20,000. (PSA: Some suits can even cost up to PHP80,000!)
Your wedding motif would only play out well and dandy if you have the entourage that will complement the wedding styles and design through their clothes. It can cost you PHP8,000 up to PHP22,000 and more if you have several entourage members. Browse through the popular wedding motifs and themes in the Philippines to get an idea on color combinations and entourage attire designs.
Meanwhile, hair and makeup should be part of the overall look and outfit. These wedding professionals can charge about PHP7,500 to PHP30,000. It will also depend on the number of persons they need to prep and doll up.


Wedding Planner


Some couples deem hiring a wedding planner as an additional expense. It seems costly, but this investment can actually take you a long way when planning a wedding in the Philippines.
Wedding planners are professionals that can even help you find other wedding professionals that suit your budget. They know what they are doing, and you are paying them to get everything done well. Wedding planner fees are from PHP20,000 to PHP95,000.
Some of them may help you find reliable wedding suppliers in Manila and also offer packages with the essentials aside from planning and on-the-day coordination, so be sure to look out for great deals. Remember that they help solve any fiasco that may occur during your wedding planning. They think of alternative ways and are trained to be the creative companion you need.


Wedding Invites
Most couples do not spend that much on wedding invitations nowadays, but they are still a key part of planning a wedding in the Philippines.
With lots of ways on how to send a message around, some do not see it as a practical option. However, this can be one of those special memorabilia for your wedding, so allot at least PHP5,000 up to PHP27,000 for unique papers and designs. Alternatively, you can build a wedding website and use it as your digital invite.


Wedding Rings
Now, for the token that will bind your love together, wedding rings can cost PHP15,000 to PHP60,000 per pair. There are wedding ring designs now that are so inventive compared to the traditional looks and materials from decades ago. Make sure to choose what both of you love because you will be wearing those for the rest of your life together.


Favors and Gifts


Favors and gifts are the tokens for your invitees. You can give away personalized memorabilia or place an order on whichever gifts you want to hand out to your guests. Reasonably priced wedding giveaways for the common wedding themes in the Philippines can cost you PHP7,500 to PHP75,000 in total.
You do not have to spend too much on it because your loved ones will appreciate it anyway. However, if you really want to show them their importance through these gifts, feel free to do so.


Accommodation and Transportation


Hotel reservations and accommodations should be on your wedding budget list since you will need a place to prepare. Sometimes, you will also need to book rooms for your close relatives or entourage. Hotel rooms and services can cost PHP4,000 to PHP200,000.
How far is it from where the ceremony happens? Be mindful of the location of your wedding venue, too. You can save transportation if it is just a walking distance. In case you need to pick up and bring your special guests to the destination of the wedding, transportation in major cities in the Philippines is from PHP14,000 to PHP25,000.
Of course, do not forget the bridal car in the wedding budget because that will drive you down the road to forever. Bridal cars in Manila and other major cities are rented for PHP3,000 to PHP68,000.


Another Chapter: The Honeymoon
Some couples tend to include their honeymoon preparations while planning a wedding in the Philippines. You don't have to if you think you already have too much on your plate.
The estimated sum for the honeymoon is PHP20,000 to PHP50,000 in Manila. These numbers will definitely increase if you want a getaway like an out-of-the-country type of thing. Though doing "many-moons" can decrease the cost to some extent if you can do things DIY and in a more affordable way.
Overall expenses are approximately PHP268,750 to PHP1,268,000.
Remember that you can spend more on the essentials and less on the minor details depending on how you want the wedding to unfold. You can also choose simpler wedding themes in the Philippines that have less of the frills if you want to spend less. Also, there might be instances that can allow you not to spend on certain aspects because some of your relatives are taking care of it. These can help you save on your total wedding budget.
After all, weddings are not about the price tags; the essence of it is in the intention. Extravagant weddings do not have to cost a fortune if you can find a way how to budget appropriately. If money is not a problem, splurge as you may. Otherwise, be practical and choose what suit you best. At the end of the day, it is your wedding, you have all the say when it comes to deciding about it.
Disclaimer: All estimates are as of writing and may not reflect actual prices.
Check out the handy infographic below, which you can use as a guide on the estimated budget breakdown for weddings in the Philippines.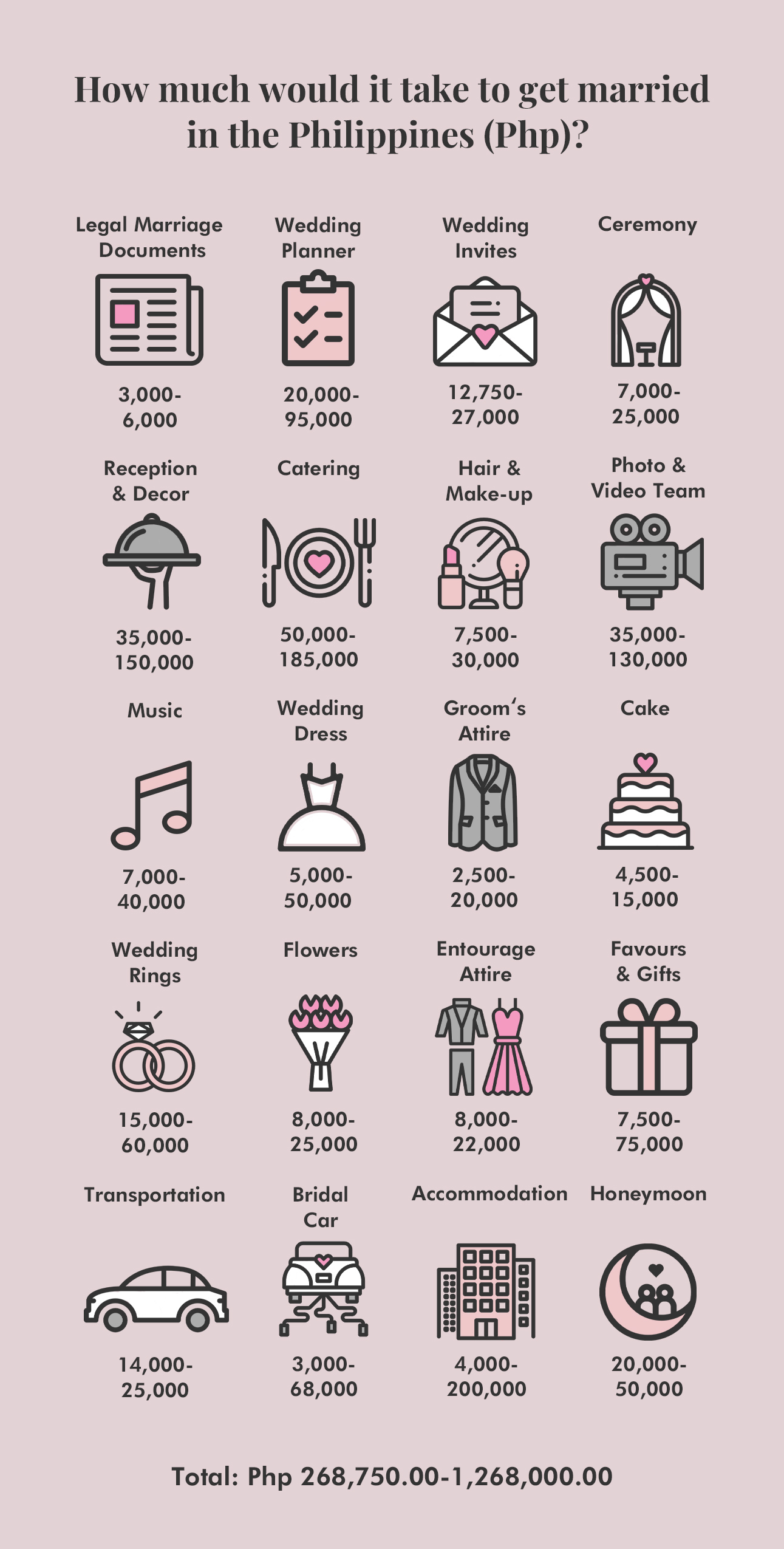 @BGBridalGalleryPH
Follow @BGBridalGalleryPH for useful wedding tips, unique ideas, and more.